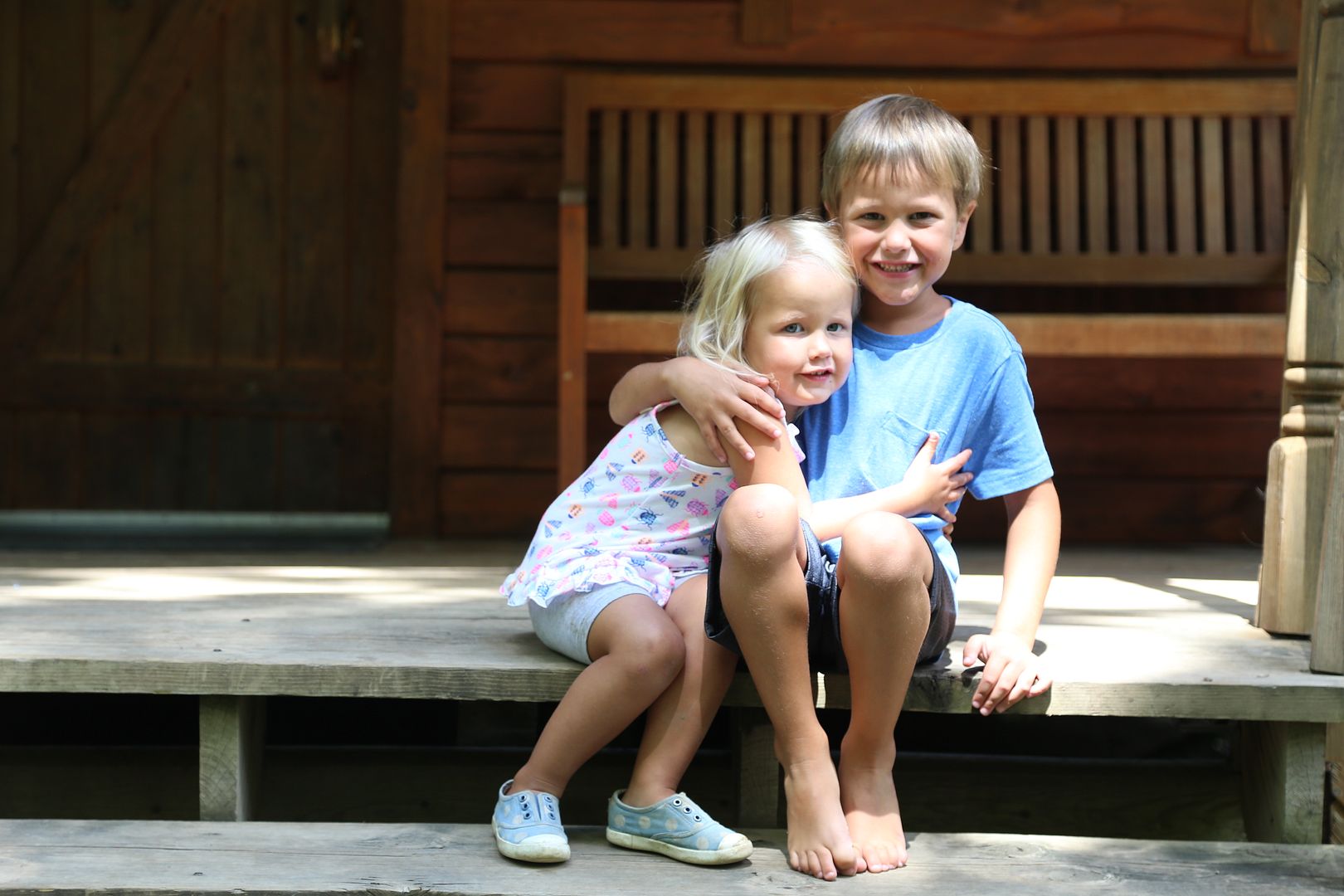 "I went to the woods because I wished to live deliberately, to front only the essential facts of life, and see if I could not learn what it had to teach, and not, when I came to die, discover that I had not lived. I did not wish to live what was not life, living is so dear; nor did I wish to practi

c

e resignation, unless it was quite necessary. I wanted to live deep and suck out all the marrow of life, to live so sturdily and Spartan-like as to put to rout all that was not life, to cut a broad swath and shave close, to drive life into a corner, and reduce it to its lowest terms."
-Thoreau, Wal

den
Last weekend, we found ourselves with a clean slate, one of our last open weekends for the foreseeable future. My first thought was to stay planted at home, for a weekend around here to clean the garage and finally get caught up on

Mt.

L

aundry sounded pretty tempting. But also pretty boring. With a fading summer and a new season on the horizon, I craved one last summer adventure and more importantly, one last opportunity to break away from routine

,

obligation, and my ever g

rowing

to-do list and to searc

h for simple in the woods.
Cruz has been asking to go camping all summer. We aren't what I would consider campers (we have a brand new, very nice four-person tent we received for our wedding that has yet to be used if that tells you anything), but I'd be lying if I said I didn't have a mad crush on the idea of becoming campers. There is something wildly romantic

and

adventurous about breaking away from the comforts of home, stripping down to the bare essentials, and escaping reality for a slower and simpler pace. And since cozy is my favorite word in the English dictionary, my mind

was a Pinterest

board of red flannel blankets wrapped around our shoulders, board games under a starry sky, a

percolator

of coffee and a morning walk in the woods, and of course, sleeping in a pil

e together

.
So early Saturday morning, with a picture perfect weekend forecast, we packed the car to the brim and headed to Spook Cave in Northeast Iowa. We laughed that our was car as full for our two day adventure as it was for our 22-hour drive and ten day trip to Maine, but I had no idea what we needed or what to expect, so I just k

ept packing

. We had sleeping bags and fishing poles, campfire chairs and a dutch oven, and a cooler of just about anything I could think that could be cooked o

ver

a fire. The kids watched a movie and Beau and I drank coffee and enjoyed conversation on the way there, thankful for a less than two hour drive

for this trip

.
I have grown up traveling to Northeast Iowa as the leaves change every fall, but have never stopped at Spook Cave in McGregor. And although I'm not too familiar with the qualities of a great campground, we were initially very impressed with this place. The big playground attracted the kids from the moment we parked the car, Beau eyed the natural trout stream that weaved its way through the property, and I loved the whole atmosphere. Lots of people doing a whole lot of nothing in the sunshine. Life was good until we pulled up to our campsite and the kids stepped in

a mud hole...
Okay, so maybe it wasn't a mud hold, but it definitely did not fit my vision of where we'd set up camp for

the weekend

. Apparently, McGregor had a lot of rain the day before and our particular campsite washes out with a big rainstorm. There wasn't a big patch of grass like many of the other sites we drove by, no tree for shade, and no place to spread out

a

blanket without making a mess of it. Both Beau and I decided it was just not going to work and I went to the clubhouse to see about reserving another spot. That is, until she informed me they were booked. So, of the ten spots that were open the day before when I called, they had since all booked up. And as luck would have it, the one I reserved looked to be in about the worst shape. With a car loaded, two hungry kids, and two inexperienced and frustrated parents, I was starting to rethink this camping thing. It even crossed our minds to get in the car, drive home, and camp in the backyard. Boy am I glad we stu

ck it out!
After a few friendly negotiations with the campground hosts, we kept our tent in the car and traded it in for a set of keys to Lakeview Cabin 1 at the very edge of the campground. At first we were a little bummed we wouldn't be sleeping in a tent after all, but after using the bathroom, storing our cold food in the fridge, and seeing how excited the kids were with the bunk bed situation, we got over it pretty fast! Maybe we are cabin campers after all.

.. :)
What started as a little dicey, ended up being my favorite weekend of summer, hands down. We had our own little neck of the woods, complete with a front porch and rocking chairs, a fire pit

and grill, and

a kitty Cruz affectionat

ely named, Scramble

. The campground had everything we needed, like no wi-f

i,

a lake with a beach for fishing and swimming, and plenty of Sea Dog Wild Blueberry. The day moved about slowly. We drank beers and caught little blue gill while the kids built sand castles and swam in the lake, we toured Spook Cave, much to Cruz's despair, and pushed the kids on the tire swing before finding our own sol

a

ce on the bench swing right next to the playground. The pace of camp life was noticeably slower and quieter, and Beau and I both breathed in that fresh air feeling

so content and happy.
While we caved and slept like babies in the beds in our cabin, we committed to cooking all of our food by campfire, regardless of how tempting it was to preheat that oven. We roasted hot dogs by the fire and topped them with campfire macaroni and cheese I had prepared prior to leaving, experimented with peanut butter and fudge-striped cookie s'mores, and had scrambled eggs, sausage, and peppers in the dutch oven Sunday morning. We found success with cinnamon rolls stuffed in hollowed out orange peels, and after two failed attempts with the percolator, finally succeeded with a pot of hot coffee,

the best coffee Beau and I had sipped in a long time.
It was all the small details of our little getaway that stood out to me the most. Most likely, because I was all there to notice them. I loved feeling the temperature drop as the sun went down, changing the kids out of their swim gear and into cozy knits and sweatpants. I loved sipping coffee out of our Mumford and Sons tin mugs. I loved watching the kids interact with nature, Cruz's fascination with the fire just like his dad, and Mila's love for campfire food and kitty friends. Camping looked

good

on our little wild woman, her hair curly from her lake swim, looking so snuggly in her sweats and knitted sweater.

We said

yes to one more s'more, play

ed

Sorry under a star-filled sky, and tuck

ed

the kids in their cabin beds with the windows open and the sound of crickets as their lullaby. And then, I

sat by the fire

with Beau, where we played games of Cribbage,

talked about life,

and both decid

ed

this camping life

was a pretty great life

. And that sky.

I'm not sure I've ever seen a sky with that many stars.
Waking up Sunday morning was probably my favorite part of the weekend. The fresh air did Mila in the night before and she slept well past eight that morning. After a good snuggle with her, I wrapped up in my favorite blanket and met the boys outside for a breakfast fire. Beau started

experimenting with

the percolator, and Cruz and I enjoyed a rare hour or so of

uninterrupted

time while sister slept. We laughed about how scary Spook Cave was to him, how we asked the guide if we could get a speedboat to take us out

of there

, and debated whether we should get a pet or not. With as much as Scramble seemed to admire our family, we started to think maybe we were pet peop

le.
We packed up camp and headed home around lunchtime Sunday, just in time for Olympic gymnastics, fresh baths, and clean sheets. Like always, it was good to be home and good to sleep in our beds, but I've been dreaming of camp life many days since. I crave a life of quiet, connection,

and peace, and I found it there in the woods, with a tin mug of coffee and a blanket of stars above me.