One of the nice things about Cruz's pediatric check-ups is that they keep me in check. It's funny - in today's world, it seems you can't do a whole lot without some kind of training. You are required to take a course before obtaining your driver's license. When you want to learn to play piano, you take piano lessons. You go to school for four-plus years in order to work at a job, yet, you don't need any prerequisites for the absolute most important 'job' in one's life.

Parenting, that is.

Nope, you get pregnant, and have the option of taking a class called, 'Baby Basics,' which promises to teach you everything there is to know about bringing a baby into this world in just two, two hour class periods. Then, once you have the baby, they keep you in the hospital for two days, make you watch a video on The Purple Cry that explains how not to strangle your baby when they cry (which scares the living out of you), and send you on your merry little way. The day we brought Cruz home, we desperately wanted someone to reassure us that our carseat was buckled in correctly. A lady escorted us to the parking lot, checked to make sure we had a carseat, then left. When we asked her to check it, she said she couldn't touch it for 'liability issues.' What???
So, every three months, I take mental notes of various questions to ask our pediatrician. Questions about what Cruz is eating, how much Cruz is eating, sleeping habits, behaviors, and lots of 'is this normal?' questions. I get the reassurance I need, and always take away pieces of interesting advice to apply at home. I'm a teacher, I understand the importance of homework.
Yesterday, Cruz had his nine-month appointment. This was a good one, as he wasn't due for any shots. Cruz turned up the charm for the nurse; that is, until she started sticking stethoscopes on his chest and thermometers in his ear. At six months, Cruz weighed 18 pounds, 4 ounces. At nine months, we gained three and a half pounds! At 21 pounds, 12 ounces, Cruz went from the 50th percentile to the 75th! The funniest part is that his height didn't change! In fact, according to the measurements, he actually lost a quarter inch! When his doctor saw the charts, he laughed and replied that, 'we can't shrink 'em!' So, Cruz Man reversed in height and weight. I guess it's proof that I'm feeding him well ;)

As far as my homework goes, I've been pondering two pieces of advice since his appointment. The first one - shoes. To get his feet ready for walking, it's important that he get used to shoes. Cruz has never worn a pair of shoes a day in his life. To be honest, I'm not a fan of them. There's nothing cuter than a pair of tan, bare baby feet, and I've never understood shoes on a baby when they can't walk anyway. Well, I guess I learned my lesson today. Cruz is getting a new pair of kicks this week.
The second lesson was a little less obvious. We've always considered Cruz an exceptional sleeper. Bedtime is the same routine every night...pajamas, a blanket, a bottle, and a good snuggle while Cruz passes out on either Beau or I before we put him in his crib for the night. Rocking him to sleep is one of my favorite times of the night. According to the nurse, however, we aren't teaching Cruz to console himself by rocking him to sleep. In order to get him in a sleep routine where he falls asleep on his own, we have to put him in his crib drowsy, but awake. And if he cries, we let him cry. After a few attempts, he will learn to put himself back to sleep. This way, when he occasionally wakes up in the middle of the night, he will be able to fall back to sleep on his own instead of crying for us to come get him.
This sounds easy, right? After all, I want Cruz to someday put himself to bed, to listen to a few bedtime stories, say his prayers, then climb under the covers, blankie or whatever in hand, and drift into dreamland without a rock, or a bottle, or a shoulder. So, last night, we tried it. I gave Cruz his bottle, stuck his paci in his mouth, and laid him in his crib. He was very tired, but awake, and started fussing the minute I put him down. I took a deep breath, shut the door, and sat in the livingroom for what was the longest ten minutes of my life.
It was excruciating. After ten minutes, I went in to check on him. There he was, arms draped over his crib rail, alligator tears streaming down his face, standing straight up with his blankie tangled between his legs. And the worst part? He had worked himself up so much that he had puked on the floor beside his crib. He looked so relieved to see me, and the minute I picked him up, he snuggled in, let out a sweet sigh, and fell asleep. I rocked my Mom-guilt away in the comfort of the Lazy Boy, and read countless 'Cry It Out' message boards for answers, before putting my fast asleep baby in his crib where he slept until 7 am.
So, for all you pros out there, what are your thoughts on the Cry It Out method? Did you try it? Was it successful? What strategies worked for you?
And for those of you opposed to it, what did you do to develop a successful bedtime routine? How did you transition away from a bedtime bottle and rock to sleep? I'm not planning on giving up Cruz's bedtime bottle anytime soon, but also don't want to encounter a situation similar to our shoes predicament. I rock Cruz to sleep during the day, at night, and if he gets up in the middle of the night. I'm I creating a sleep monster?!
Cruz has turned into a true 'crawler' this week, and it's really changed things. He's all over the place, following me and Jade around throughout the day. He's also less bored, as he has a whole new world at his fingertips. So much to explore that I'm afraid his toys are a distant memory.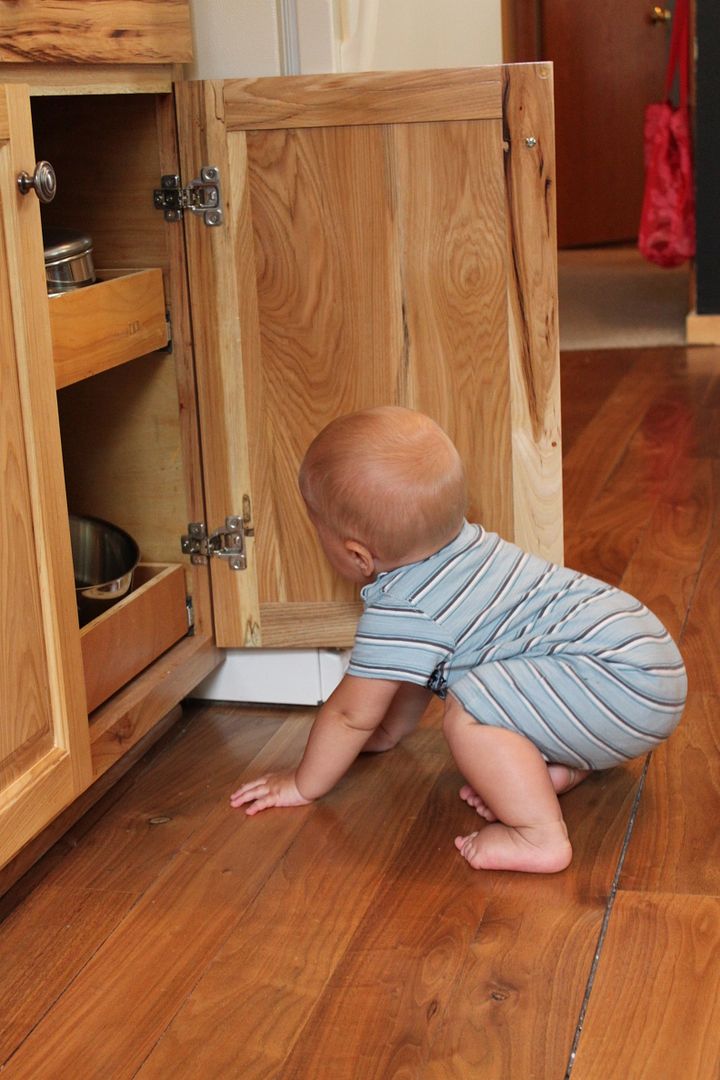 Why wear shoes when I don't even wear clothes?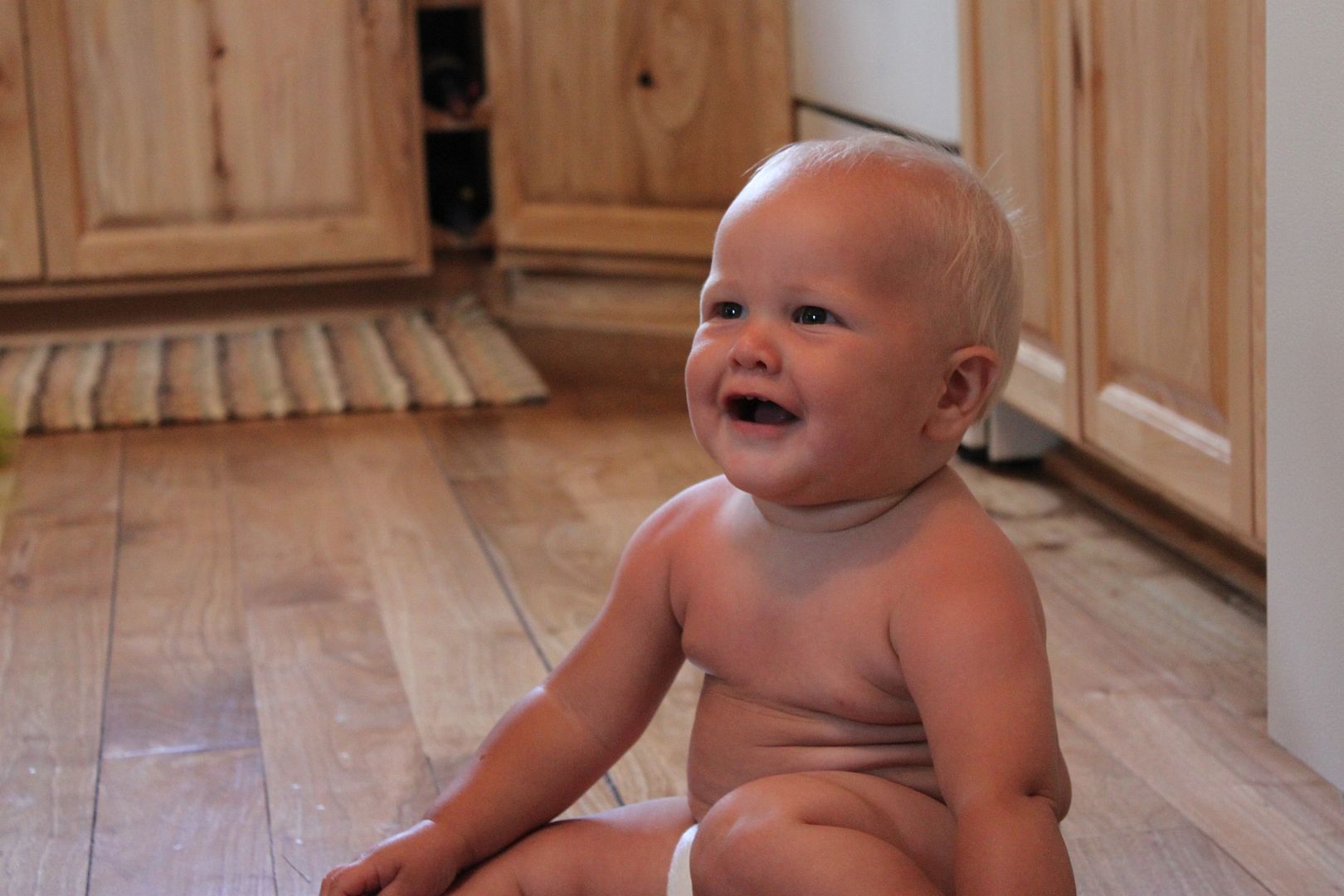 Oh, and the post title? UPS arrived on our doorstep the other day, and created a sea of boxes, bubble wrap, and paper goods for Cruz to explore. Amazon came through on three essentials for me, creating what we referred to as Christmas in July the other night.
A rear, or front facing convertible carseat. I researched for five minutes before finding 'the one.' Cruz has definitely outgrown his infant seat, and looks much more comfortable in his new one.
A Vtech Learning Walker. It's a walker for babies. This toy has an identity crisis. It has farm sound effects, a plastic phone, a bumblebee rattle, and a piano. It's a headache on wheels, but Cruz is a big fan. His little feet can't keep up with the wheels quite yet, but he'll be tearing through the house all too soon.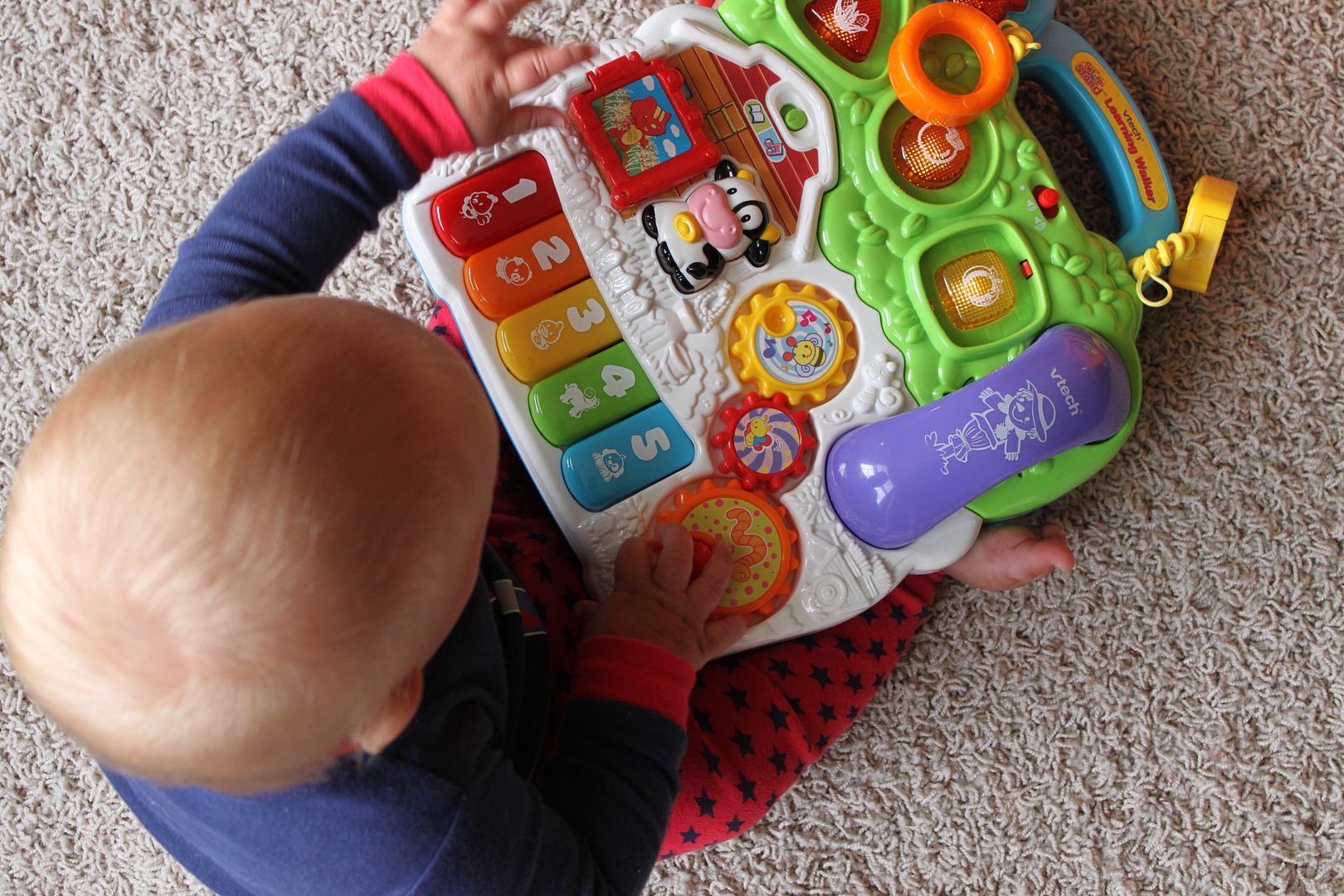 This cute little sprinkler was $9.99.
...And all he wants is his dad's baseball cap.