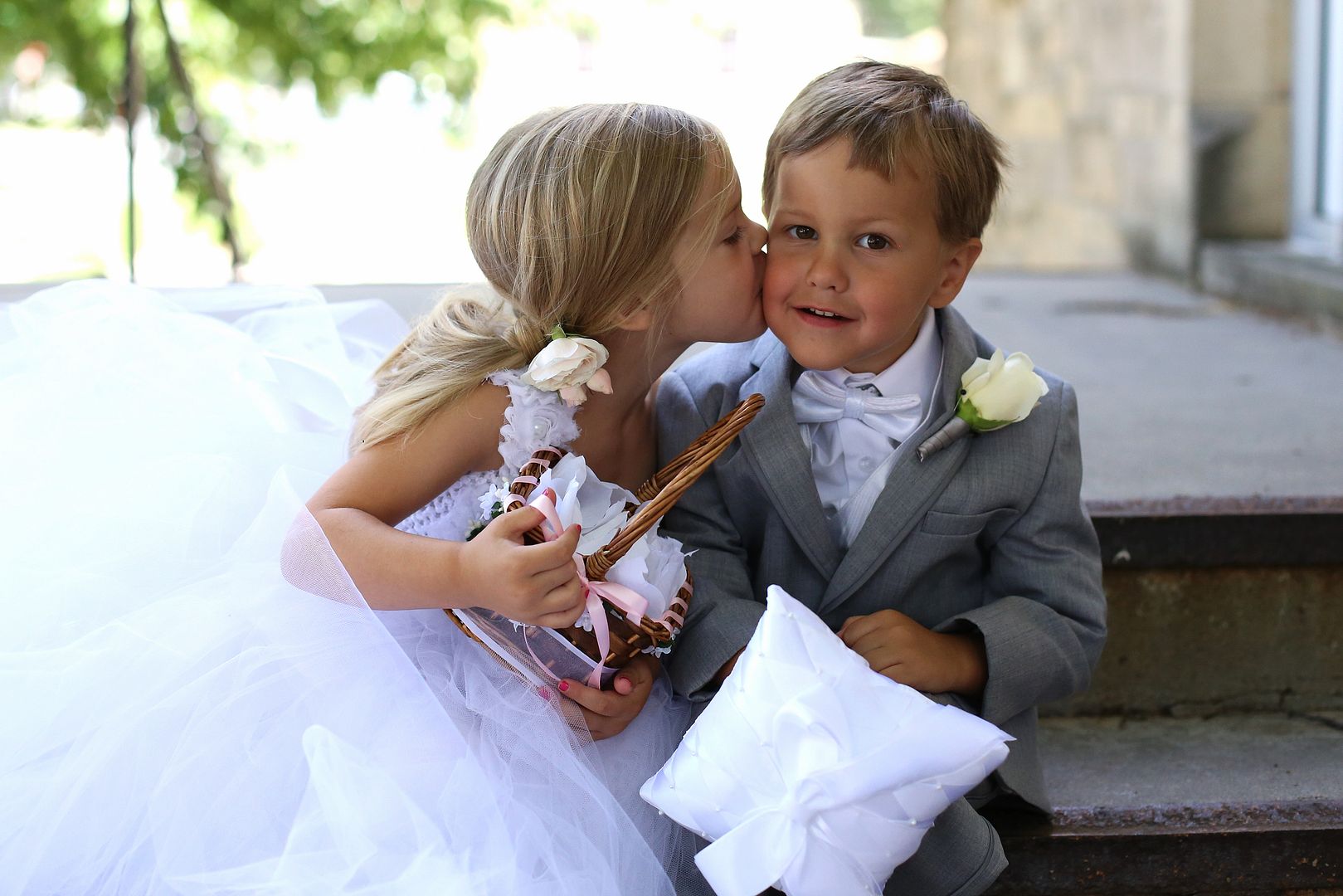 This weekend, my cousin John got married.

It was our first family wedding since my own seven years ago and we got to travel together to Lincoln, Nebraska for the festivities.

Cruz and Charly were asked to be John and Amanda's ring bearer and flower girl, so we were excited to be there for the long weekend together, stay in the same hotel, and watch our littles get all dressed up and bust a move on the dance floor.

It would also be our first experience in a hotel as a family of four and I was excited to introduce Mila to the hotel lifestyle for the extended weekend.

Packing was a bit extensive, with bottles and diapers and a cooler of homemade baby food, but I have a weird obsession with organizing for this kind of thing.

I have it down to a pretty good system by now and get a sort of thrill from laying out freshly washed clothes, planning car activities for Cruz, and packing everything just so.

I think I could do it for a living... :)
There were so many memories made this weekend.

We had about 10 hotel rooms blocked off on the second floor of the Hampton Inn and spent most of the weekend with our doors cracked open, meandering in and out of hotel rooms.

The kids, of course, turned into energizer bunnies the minute we got to the hotel, jumping like monkeys on the bed, chasing each other down the halls, and going up and down elevators.

Mila continued to amaze us all weekend, chilling on hotel beds, smiling and being passed around from one relative to the next, and sleeping all night in her hotel pack and play.

After rehearsal dinner on Friday, Cruz requested we read the Bible we found in the hotel dresser as a bedtime story and after finally getting the kids down for the night, the adults sipped seven and sevens and sat in the hallway outside our rooms so we wouldn't disturb the sleeping kids.

We played the name game, laughed at the same stories we've heard a hundred times, and stayed up way too late.
Saturday was a bit of a whirlwind, but everything came together and ended with two very cute toddlers performing just as they should and one perfect-for-each-other couple being announced as husband and wife.

Having been through this ring bearer thing before, we knew sleep (and a great bribe) were the key to a successful afternoon, so we wore Cruz out at the hotel pool the morning of, got him an early nap, and promised him his very first Transformer if he agreed to wear his tux, smile for pictures, and sit like a big boy during the ceremony.

Our day went as planned and he looked like a little hunk in his gray suit and suspenders.

His pants were a little short and his white button down a little big, but with his gray suspenders and rolled-up sleeves he looked like he belonged in The Lumineers.
We got lucky and scored some precious pictures of the little couple right before they walked down the aisle. The flower girl dresses were show-stoppers and Cruz had his hands full keeping up with the gorgeous little girls.
There are so many things I hope to remember about our weekend.

I hope I remember the sweet ceremony, how special it was to see John's face when those doors to the church opened and he saw his bride for the first time.

They were so sweet with each other, Amanda holding John's hand with both of hers and pulling it close to her as the pastor read the scripture.

I hope I remember how good Cruz was all day – how he patiently stood still when they helped him with his vest or fastened his flower to his lapel, how we smiled so sweetly walking hand in hand with Charly down the aisle, and how he asked to sit by his papa during the ceremony.

I hope I remember how emotionally raw the reception was, my cousin, Derek's best man speech that left us all in tears, Cruz and Hayes wrestling on the dance floor during the cocktail hour, and Mila dancing with the Hoodjer boys in her diaper, well past her usual bed time.

I hope I remember dancing with my siblings, Cruz getting chased around by little girls hoping for a dance, and grabbing McDonalds chicken nuggets and eating them in the lobby at 11:30 at night with my little ring bearer.

Weddings just have a way of bringing out this raw, sentimental, charged up kind of love, one that leaves you feeling a little breathless, watching your kids and realizing that one day that will be them.

It was really special to all be there together and we were so honored our little man was asked to be a part of it.
More memories from our weekend...
The kids couldn't touch in the hotel pool, but Jordan saved the day and found us some water rafts from Wal-Mart.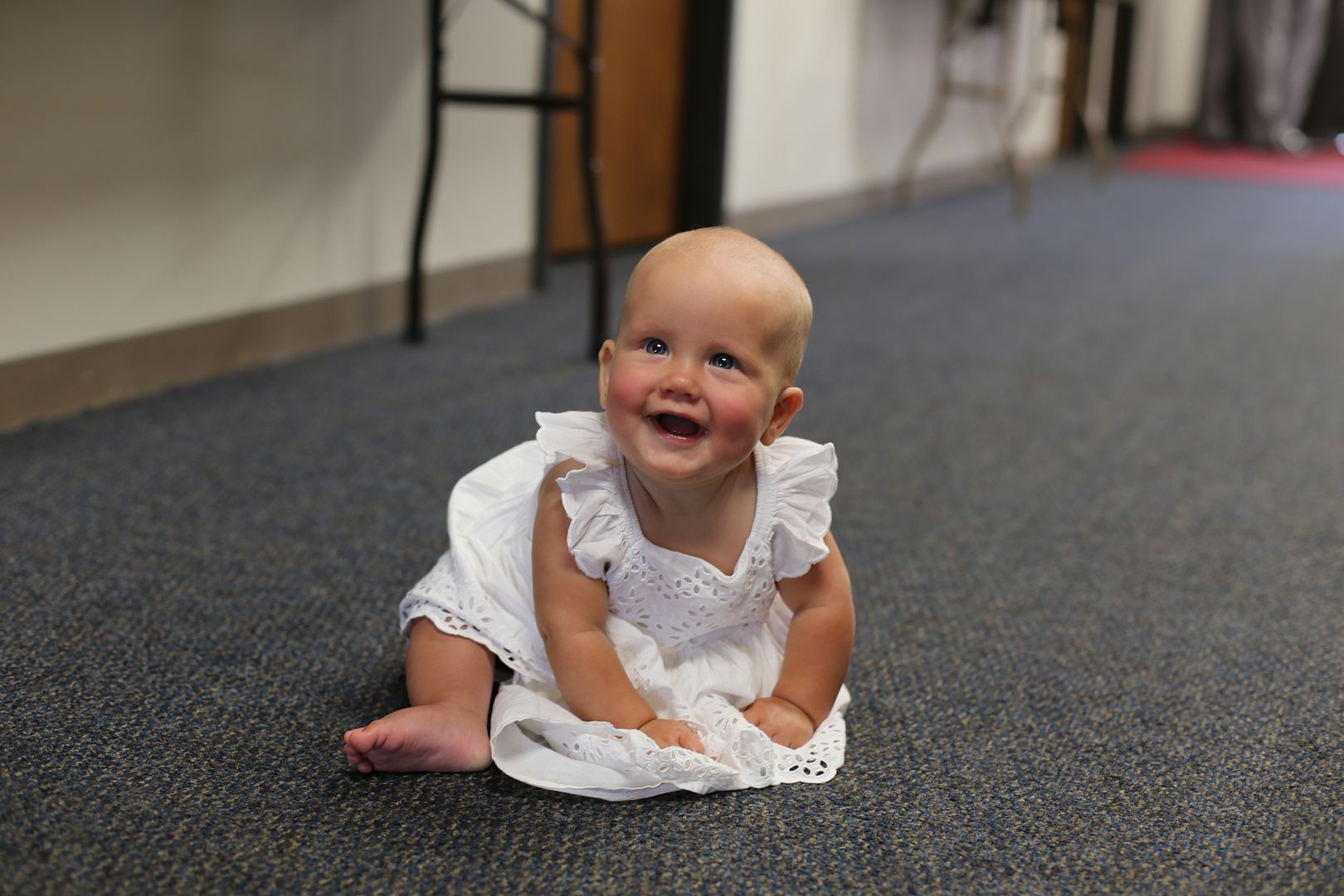 Next in line to tie the knot?! :)