I knew it was about to be a good weekend when Friday afternoon started with a pitcher of 312 (with extra lemons) on the back patio at Mulligans. The mercury scale hit 65 on Friday and I swear the entire town shut down. It's been a long awaited spring and the bike paths, beer gardens, and dairy queens were packed with Iowans desperate for some fresh air and warm sun.
Thankfully, this warm weekend coincided with a free calendar for our clan, creating ample opportunities to get outside and enjoy what we've been so excited for. And after a stressful week at work, it was wonderful to put it all away and catch a glimpse of a summer break that's inching its way closer all the time.
Friday brought Mulligans' patio, followed by samosas at Taste of India, a walk before bed, and a new series on TV. We've officially jumped on The Walking Dead bandwagon, people! Zombie apocalypse, anyone?!
Saturday started with a quiet morning downtown, strolling the parkade, peeking in candy stores, and sipping bloody marys and chocolate milk at Soho. Then, we took Cruz to Scheels to practice his bike riding skills at a Strider bike promo course. Our cousin, Jillian is the event coordinator for the new humungous Scheels in town, and it's fun to have a new ear to the many events she is planning. Although Cruz has a while to go before he's doing flips on his Strider bike, he did walk away with his first gold (participation) ribbon and better yet, a checkered flag tattoo on his forearm. I warned Jill that he may freak out, but he surprised us all with quite the opposite reaction. Dude liked his tat and showed it off to pretty much everyone the rest of the weekend.
After Scheels, groceries, and a cruise through town, we ended up back home, meandering in and out of the house for the remainder of the day. It felt wonderful to open windows, walk around the driveway with bare feet, and let Cruz get reacquainted with his backyard again. We grilled some flank steak fajitas, a summertime staple around here, and served them with a new strawberry salsa recipe I snagged on epicurious.
Sunday was glorious. One of my favorite days. After church and some soccer in the backyard, Cruz helped his dad hook up the bikes while Mom packed park essentials for the afternoon.
We rode bikes most of the afternoon. Our little town has the best network of bike trails and it's our goal to make good use of them this summer. We purchased our bike trailer the first summer after Cruz was born and quickly realized his little neck wasn't quite sturdy enough for the trails that year! Last year was much better; however, this year was the first summer that he actually got it. He sat up tall, looked out the sides and pointed out trains and trucks and parks, and soon fell asleep against the tower of pillows I stacked next to him. He had quite the little set up back there, giving Beau and I some time to cover some distance on our wheels.
We detoured at Gateway Park for most of the afternoon, playing on the park equipment, walking along the river, and snacking on strawberries and rice krispie treats in the sun. It's so fun to see how much Cruz has changed comparing him from one season to the next. He loved the park last year, but this year is an entirely different ballgame for him. He can climb the makeshift rock wall, swing from the bars, and scoot down the slides without anyone there to catch him. And the best part? He plays. Makes every landing area a 'room' of his house and yells 'Umi-Zoomi!' before going down every slide. It was so fun to watch him wave at us from atop the tower and attempt to make friends with other little people. He made quite the connection with another little boy named, Noah, and the two of them cheered one another on as they took turns climbing the rock wall. It was precious.
After we lured Cruz away from the park, we took one last detour on our way home - an important one for crunch cones and cherry dip cones at Dairy Queen. Cruz finished his entire cone by himself, even though a good portion of that ended up on his face instead of in his mouth! There's something about an ice cream cone that makes me abandon all common sense logic. The messier he is, the more he enjoyed it!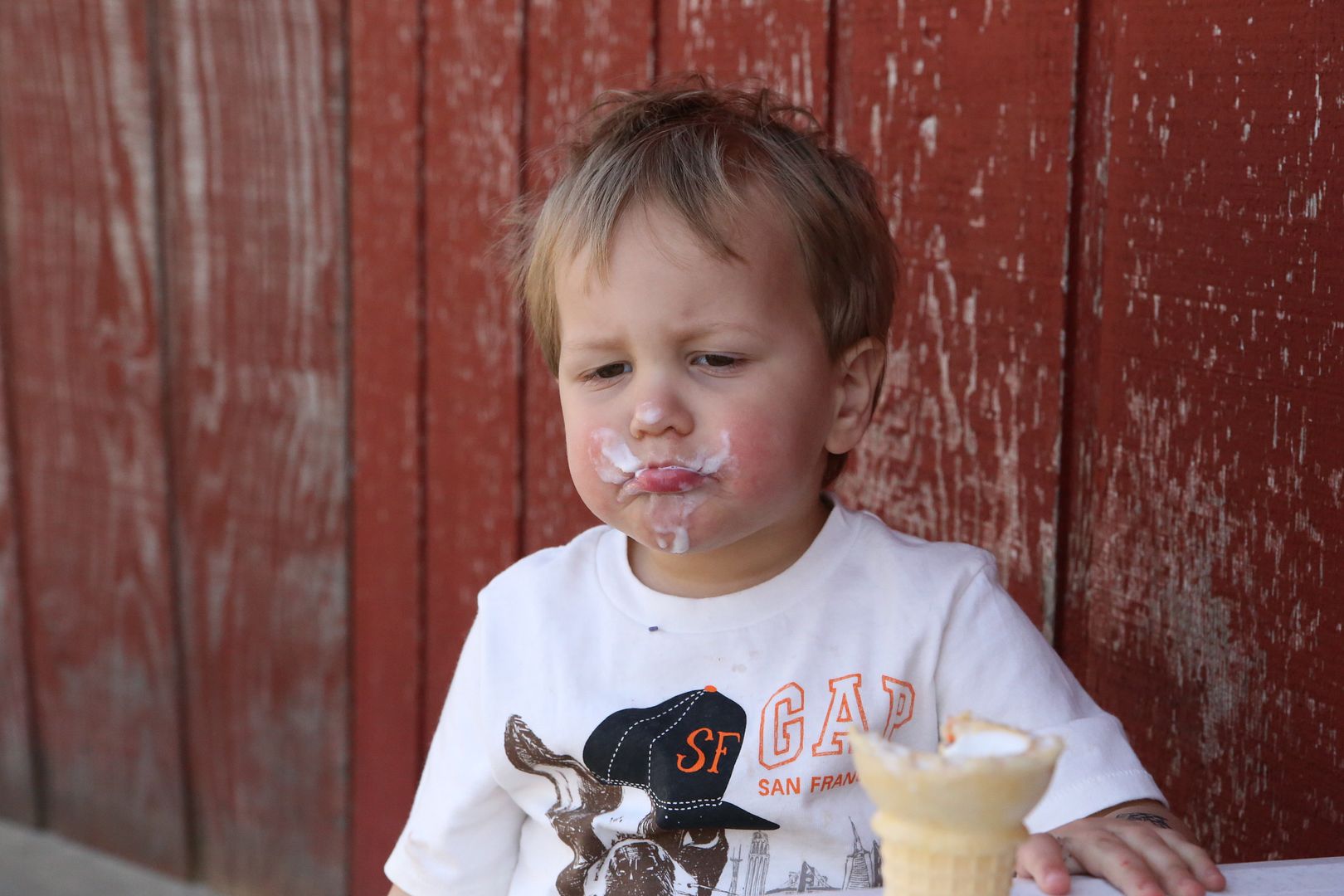 After making our way home, all three of us took a late afternoon nap in our bed. I felt summer all around us. The feeling of our sun-kissed skin on crisp bed sheets, the warm breeze making its way through our window screen, and the look of Cruz's sticky face and wind-swept hair on my pillow was exactly what I love most about this next season of summer. After all, it's much easier to talk myself into washing bed sheets when you can dry them on the clothesline.
We ended the weekend with burgers on the grill, a sudsy bath, a new pair of summer pajamas for Cruz, and some Game of Thrones before bed. I went to bed tired, but refreshed, and fell asleep dreaming up our summer bucket list.
Although it may have only been a glimpse, a taste of summer is all we needed to refresh our spirits and give us something to believe in.
And did you smell this morning's rain storm? Amazing!