...Tuesday was a welcomed slow morning. We slept in and walked around town, strolling around The Cotton Exchange, stopping at a few fountains, and peaking in a few shops. The sun was hot this morning, but fortunately, mama and baby were used to it by now...:)
...We ate at Paula Deen's restaurant, The Lady and Sons, for lunch. Think what you want of her, but I couldn't help but think this woman got a little screwed by the media the past few weeks. We talked to many locals during our stay, people of all ages, races, and backgrounds, and not one of them had an ill word to say about her. One African American gentleman told us his family has worked for her for years and she has been one of the best employers one could ask for. She employs 400 Savannahians at her restaurant alone and all employees - cooks, dishwashers, and wait staff, are provided with full benefits, 401K, and dental! She's the face of the community and it was clear to see that they were standing in support of her. It's just interesting to me that someone can be ruined for an inappropriate comment made 30 years ago when others are praised and make a good living on being inappropriate. As long as ratings are up, it doesn't seem to matter.
...Our wonderful waiter, Michael, said her restaurant's been busier than ever and it was easy to see why after trying her food. Her buffet was loaded with all the Southern staples - fried chicken, baked chicken, mac and cheese, creamed corn, collard greens, black eyed peas, mashed potatoes, and delicious chicken gravy. Her sweet tea was our favorite, and her fried chicken was out of this world. For dessert, you could pick between warm gooey butter cake, peach cobbler, or banana pudding. It was also the only restaurant we visited where kids eat free, dessert and all. We had a great experience at The Lady and Sons and I hope that if Paula Deen is as respected as it seems within the community of Savannah, that she can bounce back and learn from the process.
...After lunch, we let Cruz burn off some steam (and calories) at the Ellis Square Fountain by City Market. He was sad that I wouldn't let him take his pants off, but soon got over it when he realized how good the water felt!
...The guys went back to the hotel to take a nap (think post-Thanksgiving nap) while Mom and I decided to push through our lingering food comas by shopping. I bought myself a Georgia patchwork quilt I had been eying since the previous day, a quilt perfect for picnics and cozy winter nights cuddled up with a warm cup of tea.
...After naps, we did what anyone else would do after inhaling hundreds of calories at a lunch buffet in Savannah, Georgia - we got ice cream! Our last must-do stop before leaving Savannah was Leopold's Ice Cream, a famous ice cream parlor owned and operated since 1919. All of their flavors are made on sight with no artificial flavors or preservatives. And many of their historic flavors, including tutti frutti, were developed and made famous right here in Savannah. And the youngest son of the famous store owner just happens to be a famous movie producer, so it was fun to see the store walls covered in pictures of Hollywood stars sharing Leopold's with him.
...Mom and I tried their famous pistachio, Dad had chocolate raspberry swirl, and Beau and Cruz went with chocolate chip. Cruz screamed on the way out of the shop and a guy entering said, "wow, it was that good, huh?!"
...After ice cream, we waved goodbye to Savannah for the night and drove the fifteen miles to Tybee, a small little islander town on the Atlantic Ocean. We got pretty excited driving down the highway, passing shrimp boat marinas, lighthouses, and sea turtle crossing signs, and soon we could see the never-ending coastline in the distance. There is perhaps nothing in my book more breathtakingly beautiful than the ocean. It takes you, that's for sure.
...Tybee was quite the opposite of stately historic Savannah, but we loved it all the same. It was a typical island town - narrow streets lined with brightly colored houses and palm trees, surf shops on every corner, and shirtless and bikini'ed beach bums walking dogs on roller blades and sipping fruity cocktails of all shapes and sizes. Tybee had a great vibe, and I couldn't help but feel cheated to live so far away from the coast.
...I'm not sure I've ever been so taken back by the sight of the ocean before. It was big and it was blue and it went on forever. In the middle of the sugary sand beach was the most magnificent pier. We walked to the edge of the dock and found ourselves standing in the middle of the ocean. There were young boys fishing off the edge and within ten minutes, we saw our first wild sting ray and baby shark! We spotted dolphins swimming fairly close to the beach and Cruz begged (and then pouted in the middle of the pier) to build a sand castle.
Yes, folks, a baby shark, teeth and all.
...Standing on the beach at sunset just makes you feel grateful. There's something about it. We sunk our toes in the sand just as the sun was going down. Cruz immediately got to work filling his shark bucket with sand and we felt how warm the water was as the tide crept up to our toes. It was a beautiful night and we all just kind of quietly took in the sweetness of the salty sea.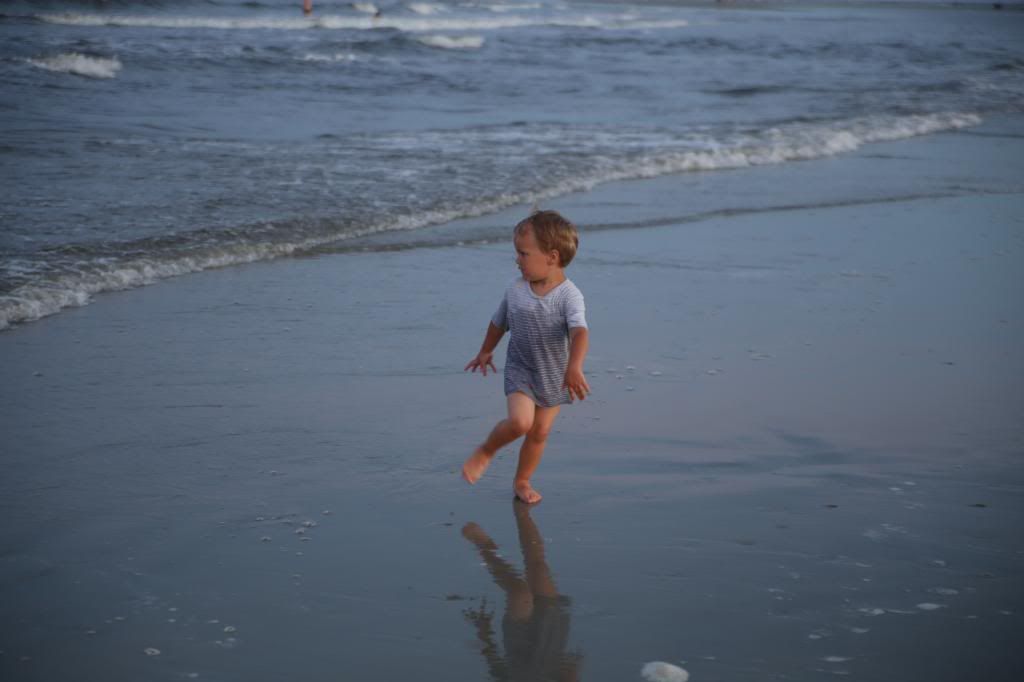 ...We stayed past dark and ate takeout Lighthouse Pizza in the mini-van on the way back to the hotel. This was maybe one of my favorite moments of the entire week. All five of us, tired, wet, and covered in sand, quietly eating our pizza in the dark feeling very vacationed and very fulfilled. Cruz was wet so I didn't bother strapping him in his carseat. In his undies and towel, he curled up next to me with a big slice of pizza and fell asleep after the very last bite. I ran my fingers through his beach blonde hair and felt so much gratitude for the opportunity to show my boy the coast.
And we loved it so much, we decided to go back the next day!