"Keep the earth below my feet. For all my sweat, my blood runs weak. Let me learn from where I have been. Keep my eyes to serve, my hands to learn. Keep my eyes to serve, my hands to learn."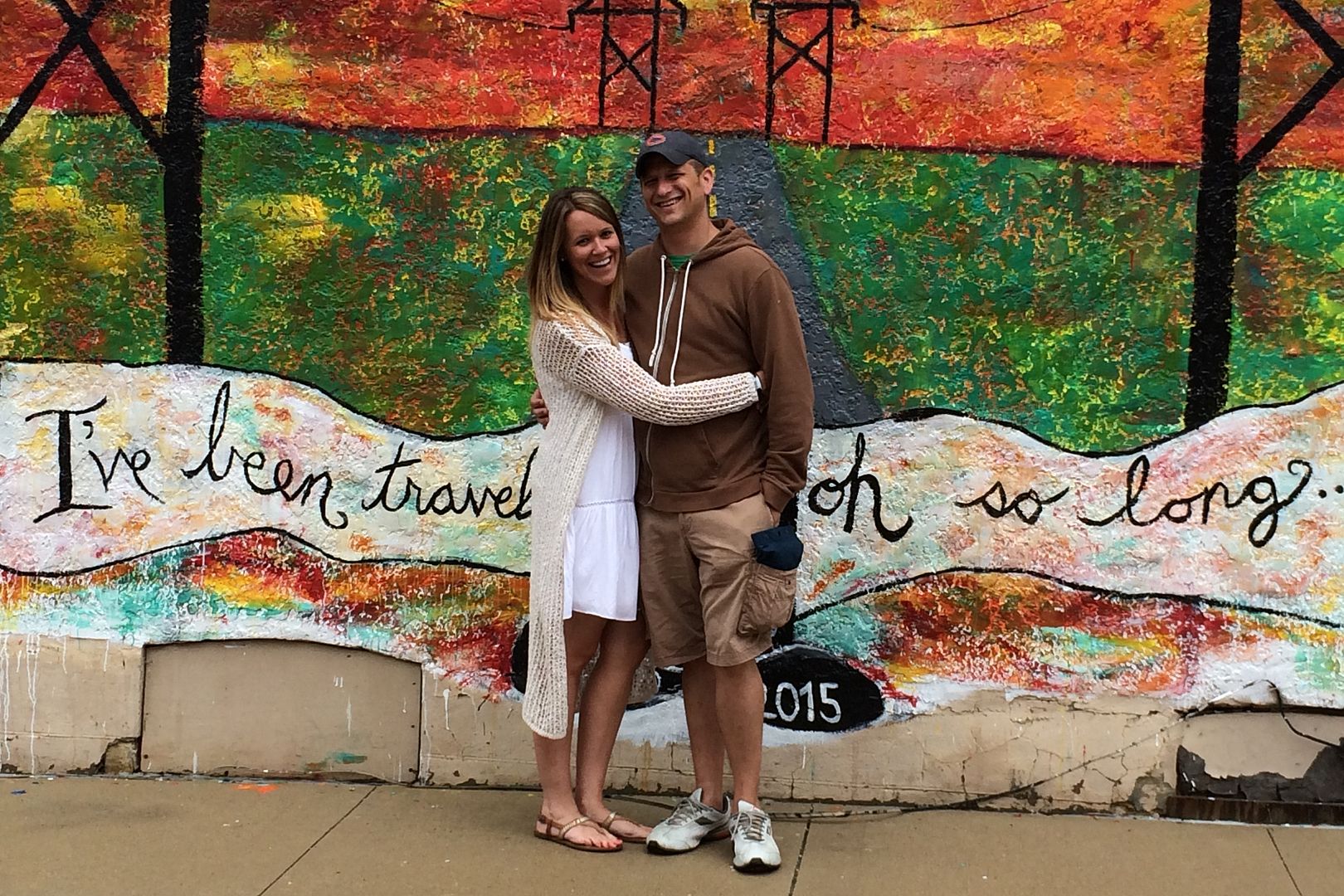 Beau and I saw Mumford and Sons in September two years ago, at a show originally scheduled for June, but cancelled just a week before after their bassist, Ted Dwane, was hospitalized with a discovered blood clot on his brain. It was during a summer Beau and I have now deemed our musical renaissance, as we became groupie fans of a number of folksy rock bands, attending three concerts in Minneapolis, Summerset, and later, Bonner Springs, when Mumford announced they would reschedule our show to end their tour in late September. Pregnant with Mila, we made the weekend into a little babymoon, and had an unforgettable experience on a perfectly crisp fall night, watching one of the best bands of our generation sing and stomp and push that drum set over during their live performance of Dust Bowl Dance. It was an experience I knew I would never forget, and figured I would never have the chance to relive. That is, until I heard a little rumor they would be coming to Iowa...
Fast forward to March, when I'm sitting around our little card table in this new house that at the time felt so very foreign, having a conversation with my little brother who had just heard Mumford had chosen Waverly, Iowa as one of their 2015 Gentlemen of the Road Stopover locations. I told him he was crazy, but when my dad, an employee at Wartburg College, later confirmed the rumors, I couldn't wrap my mind around the news. How could this band, who completely mesmerized us on the Grammy Stage performing with Bob Dylan back in 2011, since producing the fastest selling album of our decade, earning it the title of Album of the Year at the 2013 Grammys, be coming to little known Waverly, a town of less than 10,000 people, to host a huge music festival that could attract more than 30,000 people from all over the world? I was a little bit dumb-founded, but mostly through the roof with the thought of traveling less than 20 minutes for a weekend full of great music and more time with Mumford and Sons. We purchased tickets the minute they went on sale, and began planning a truly once-in-a-lifetime weekend in Waverly, Iowa.
According to the GOTR website,
"A Stopover is a celebration of a real place, with real people. It's a bridge between the culture of a music festival and actual culture as lived by real-life people. We bring the music, the stage, the flags and the fans; everything else belongs to the town. Their energy and enthusiasm, their civic pride, their favorite local beer. We've found it to be a beautiful thing – maybe the most beautiful thing that we do."
This quote truly captures the very essence of this weekend. Waverly fully embraced the small-town appeal of the Stopover. I loved the British flags that hung from storefronts down Bremer Ave., the murals painted on windows, and the traveling canvas we all signed our names on. I loved the energy by the main stage area, the sea of tents that lined the outskirts of the Wartburg soccer field, and the diversity of people from all walks of life sitting on blankets under a perfect summer sky, sipping Stopover Ale or a SingleSpeed brew, tapping their toes to whichever artists were making us swoon. The atmosphere was exactly what I love about music festivals, and to attend one so close to home with so many of our friends and family, was so much fun.
We saw The Very Best, Dawes, and My Morning Jacket Friday night, under a picture perfect Iowa sky. But when we woke up to thunderstorms and heavy downpours Saturday morning, we packed ponchos and extra clothes, and planned to make the most of our tickets, all with a lingering sense of disappointment we tried our best to squash as we made our way to Waverly. The sky didn't look so pleasing as we ducked into Sub City just after noon Saturday, but when the rain stopped and the clouds began to break, we decided to take a chance and head over to the main stage to see what the crowd was like. We made our way to the front, about thirty feet from the stage, and staked our own little Woodstock camp. And we didn't move the rest of the day!
When thinking about our day, I had no intentions of being that close to the stage. But by the time the Maccabees started playing and the crowd started filling in, I guess we all just decided to stay put and ride the night out! We took turns grabbing waters and beers, those amazing corn fritters, and of course, visiting the porta potties, and soon found ourselves packed like sardines with 15,000 or so of our closest friends. Needless to say, it got a little harder to leave at that point, and the anticipation was palpable. It was wild and it was so awesome.
The sky had magically cleared up and the once looming forecast had turned to the prettiest cotton candy sky as the bands played and we awaited the main event. And we had the time of our lives up there. We discovered new love for less familiar bands - Angie and I loved Rubblebucket and Beau became one with Jeff and the Brotherhood. Jordan and I had fun mingling with Taylor and his young clan of friends, parked less than ten feet from us, and we made friends with a group that traveled from Ohio for their second Stopover experience. We caught glimpses of Mumford and Winston backstage and all talked about how cool it would be to travel with the bands for a day or two. And then things got a little wild when The Flaming Lips performed, but we rolled with it, fought over silver metallic balloons and pushed that giant hamster ball through the crowd with all our might.
Mumford and Sons played 23 songs for us that night, the longest set they've had since their tour in 2013. They sounded better than ever, and seemed to have a lot of fun with the crowd. It was amazing to see them so close, to see just how talented Ben Lovett is on the piano and just how much fun they have with each other. Their new songs sounded better live, but their old stuff still stole the show. Highlights for me were when they decided to sing my all-time favorite song, Timshel, all huddled around a single mic, an act they haven't done since the concert we saw in Bonner Springs, or when they invited band-mates from all the other bands up to the stage to sing a unrehearsed version of Joe Cocker's, Have a Little Help From My Friends. I told Beau that if I ever see Mumford again, I'm gonna have to be on that stage with them in order to top our rather progressive history! The concert and this unforgettable weekend ended shortly after midnight and we sang our hearts out all the way to the car and then to Pablos for tacos before stepping out of our little Woodstock and back to reality.
It's been three weeks since that weekend, but I still smile when I think about how much fun it was. So thankful for our friends who made the trip and for Waverly who took a big chance with a great big undertaking. Tickets were expensive, but worth every penny. It was an experience we'll tell our kids about someday, leaving out a few details of course. :)
A few iPhone photos of our weekend. DSLR cameras weren't allowed and it was freeing and fun to play around with my phone. But after seeing some of the professional images captured, I did swoon a little.
A few of my favorites, copyright Ty Johnson