It's been awhile since I've posted a recipe, probably because it's been awhile since I've cooked a great recipe! After our trip, I'm planning to get my feet wet in the kitchen again.
If you haven't cooked with sun-dried tomatoes, I would highly recommend it. For some reason, I've always shied away from recipes that called for them. It turns out, they're super easy! You can find them next to the dried fruit and veggie packages at your local grocery store!
I stole this recipe from allrecipes.com. We pan-fried chicken breast, but you could probably use diced chicken meat if you wanted to go the easy route. The changes I made are listed below.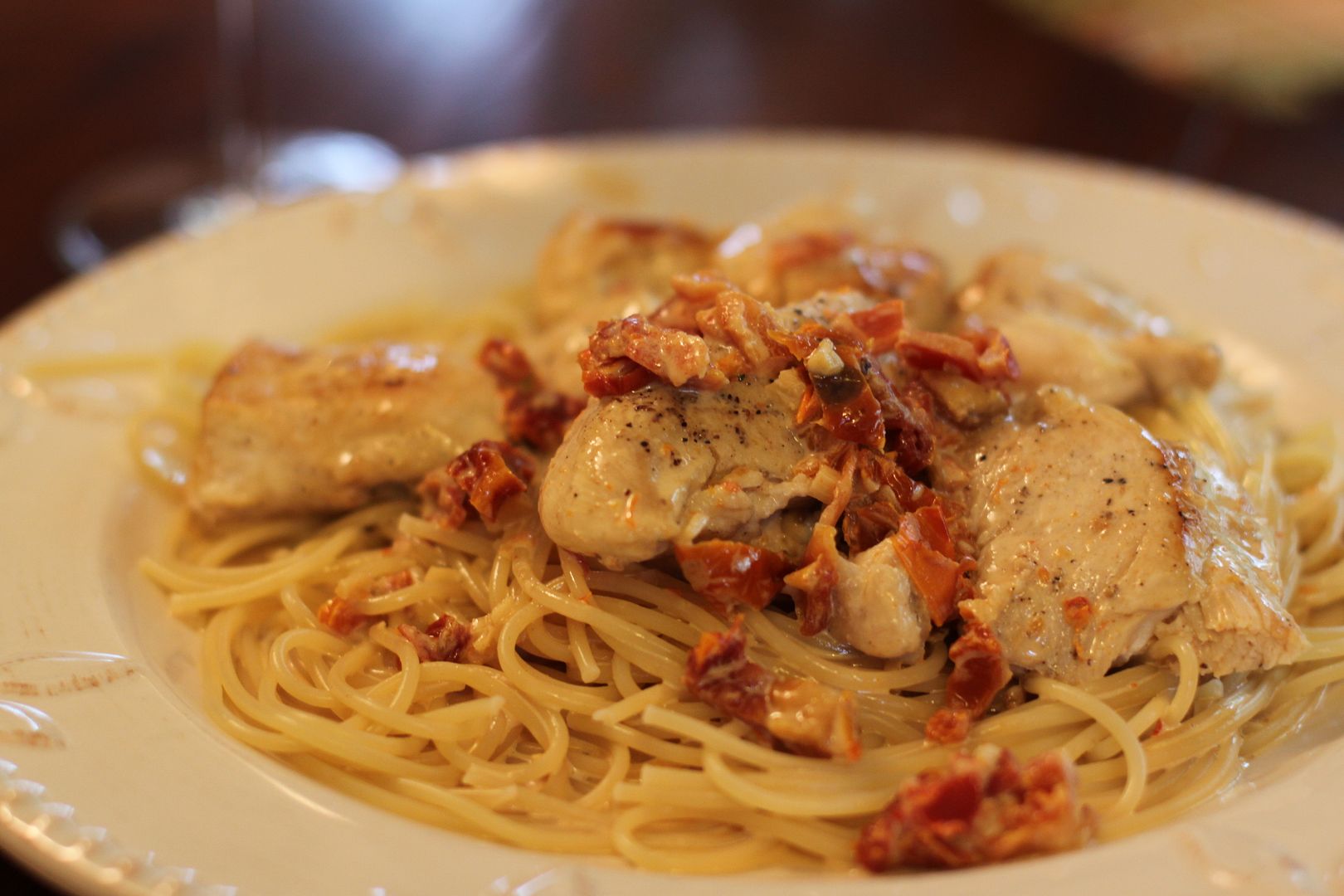 Chicken Milano...
1 tablespoon butter
3 cloves garlic, minced
1/2 cup sun-dried tomatoes, chopped
1 cup chicken broth, divided
1 cup heavy cream
1 package of boneless, skinless chicken breast, fat removed and sliced.
salt and pepper to taste
2 tablespoons olive oil
2 tablespoons chopped fresh basil
8 ounces dry fettuccini pasta
1. In a large saucepan over low heat, melt butter; add garlic and cook for 30 seconds. Add the tomatoes and 3/4 cup of the chicken broth; increase to medium heat and bring to a boil. Reduce heat and simmer, uncovered, for about 10 minutes or until the tomatoes are tender. Add the cream and bring to a boil; stirring. Simmer over medium heat until the sauce is thick enough to coat the back of a spoon.
2. Sprinkle the chicken with salt and pepper on both sides. In a large skillet over medium heat, warm oil and saute chicken. Press on chicken occasionally with a slotted spatula. Cook for about 4 minutes per side or until the meat feels springy and is no longer pink inside. Transfer to a board; cover and keep warm. Discard the fat from the skillet.
In the same skillet, over medium heat, bring 1/4 cup chicken broth to a boil; stirring the pan juices. Reduce slightly and add to the cream sauce; stir in basil and adjust seasonings to taste.
3. Meanwhile, bring a large pot of lightly salted water to a boil. Add fettuccine and cook for 8 to 10 minutes or until al dente; drain, transfer to a bowl and toss with 3 to 4 tablespoons of the sauce.
4. Transfer the pasta to serving plates; top with chicken and coat with the cream sauce; serve.