Since our Christmas madness officially begins next weekend with two of six family Christmases, plus my graduation ceremony on Saturday, this weekend was about staying home, or at least staying local. About sweat pants. About quiet time with Beau and Cruz. About a movie night, a good meal, and a fire.
And luckily, the snowstorm slash blizzard-like conditions helped make that happen.
It was the first official snowstorm of the year. We didn't get a lot of snow, especially compared to our friends up north in Minneapolis, who got enough snow to collapse the roof of the Metrodome; however, it was enough to make that last trip to Hy-Vee to stock up on the essentials, shut the garage door tight, and close out the world around us for a night or two. I always love the excitement surrounding snowstorms in December. Last night, it was so fun to read everyone's Facebook statuses. Red noses and hot chocolate, red wine and Scrabble, a cold beer and the Griswold's family Christmas...everyone was in good spirits, ready for an excuse to slow down and stay in. I'm sure this will read very differently come January, but for now, it seemed Iowa weather was making everyone feel like comfort food.
Speaking of comfort food, we cooked last night. And I'm not talking the Hamburger Helper, slow-cooker stroganoff, or grilled-cheese-and-tomato-soup cooking that has been happening around our house the last couple of months. Beau and I cooked a meal like the old times, a meal that involved chopping, dicing, sauteeing, and tossing, followed by a destroyed kitchen and a two-load dishwasher. A meal that involved my favorite almond and mandarin orange salad, Parmesan crusted chicken, and pasta in butter sauce. Cruz was perfectly content watching us cook from his changing table pad, placed ever so carefully on our countertop, right where he could be in on the action. And like always, he started getting fussy right as we plated our magazine-cover meal, so, we settled to eat our salad and slice our chicken in the middle of the living room floor. This way, we could talk to Cruz in between bites, and stick his pacifier back into his mouth while turning pasta on our forks, all at the same time. It's called compromise. The meal was delicious and I was able to finish my entire plate before getting Cruz his bottle. Success!
After cleaning up the kitchen and filling Cruz's tummy too, the three of us settled in the living room to nurse our food comas. Cruz discovered that lying under the Christmas tree is about as cool as the TV, Beau discovered that our front door leaked more cold air than the Metrodome itself, and I discovered a new holiday drink. One part Pinot Grigio, one part 7up. We watched a movie, passed our little 'space heater' back and forth, and settled in for a long winter's nap. We even contemplated putting Cruz in bed with us, but decided we better not ruin a good thing.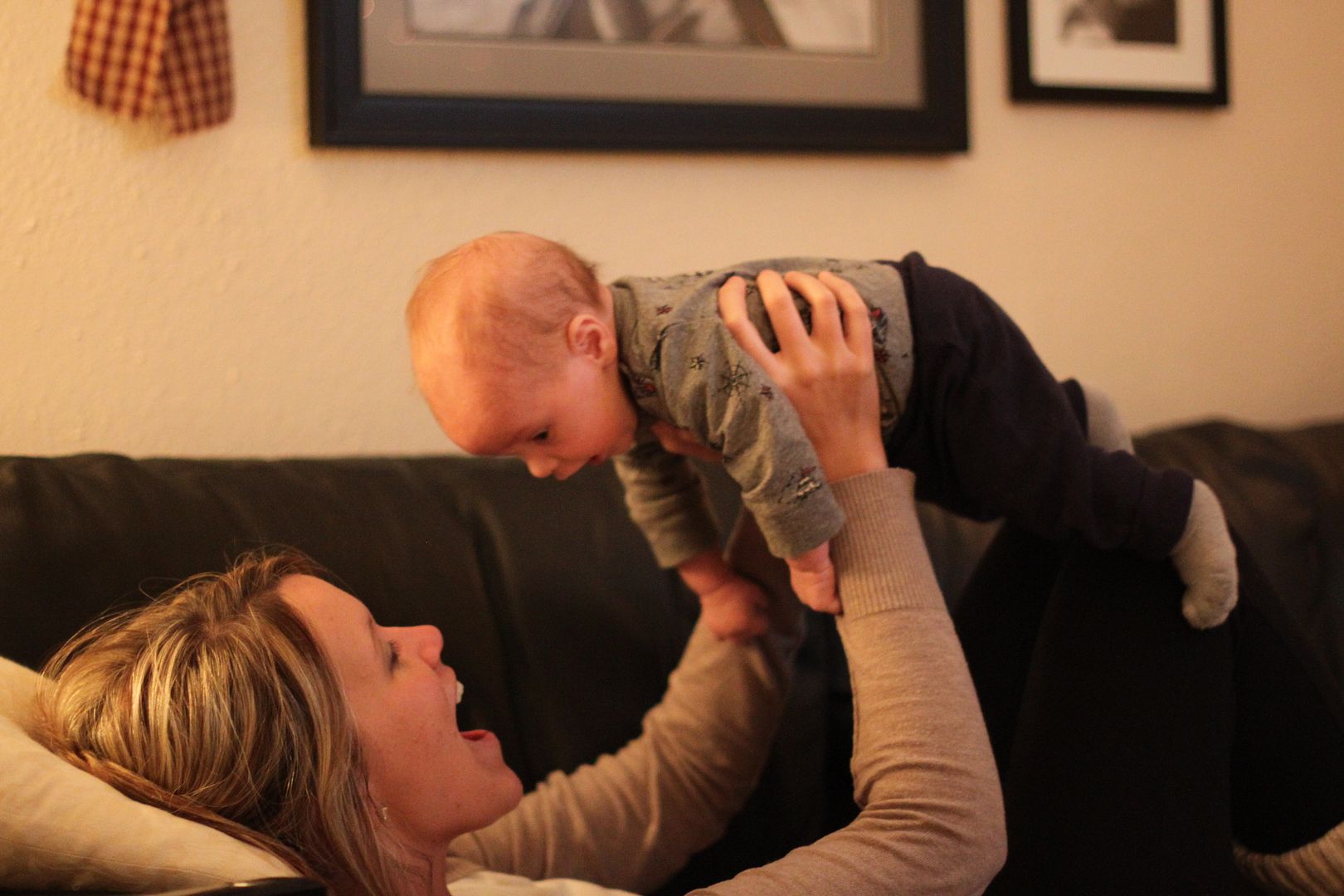 It was a cozy night at home, one that I used to dream about when I was pregnant and impatiently awaiting Cruz's arrival. And it was a welcomed night for a tired little baby, especially after the action-packed night he had on Friday. We decided to take Cruz to his first ever basketball game at NU. First, we went to Chubby's, a little restaurant on the Hill, owned and operated by our friend, Starbuck. We figured that since Starbuck did such a great job feeding Cruz last weekend at the ugly sweater party, we'd return the favor and 'feed' his new business. What we failed to remember on Friday night, was that we walked in right as FAC (Friday.After.Class) was coming to an end. The three of us sat amongs twenty-or-so college boys, all hungry and waiting to feed their before-finals appetities. Cruz, well, he loved the action. It was a mutual bond between the baby and the college boys. We ate tacos and deep fat fried Twinkies (which are amazing) while Cruz admired the big screens and pretty blond college girl at the table beside us.
At first, Cruz wasn't so sure about the game. We walked in during half-time of the girl's game, in the middle of the pep band's performance, lines at the concession stands, and a stampede of twenty high school girls, all wanting a look at him. As they huddled around his carseat in a complete circle, he showed us his first ever pouty lip. A perfect puppy-dog face, followed by a frown, big tears, and a cry that made the trumpet stop (just kidding). The girls giggled and thought it was adorable. Cruz, he was just trying to figure out where in the world his crazy parents had taken him now.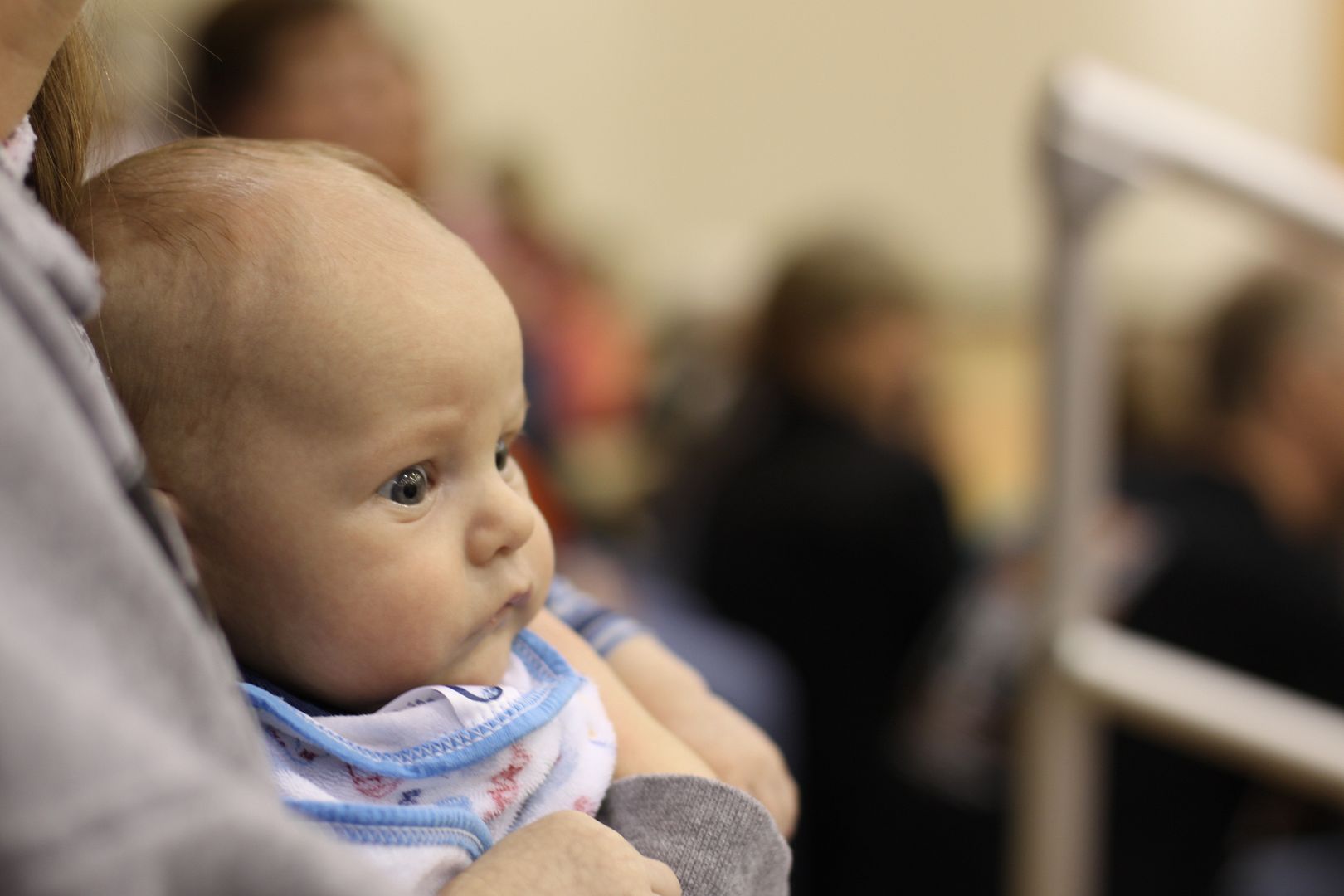 It didn't take him long to figure out that basketball games were pretty cool. The lights, the constant running-back-and-forth in front of him, and the attention from lots of girls, was enough to make Cruz completely forget that he was hungry and overdue for a bottle. He loved everything and was quite the show-stopper (especially since NU's 30-point lead failed to create much suspense). Cruz spent some quality time with some of my favorite teacher-friends, and even managed to fall asleep between the boys and girls game. I think there are more NU sporting events in our future!