This was a week of many 'firsts.' First day of summer break, first baby shower, first Poetry Slam in my class, first $5 pizza from Little Caesars. Some of these 'firsts' came with a great sigh of relief, some with ample amounts of excitement, and others with a mild dose of heartburn. All in all, however, they are 'firsts,' they are milestones, and they are memories...some I will forget sooner than others; some I won't ever forget.
My first 'first' had me skipping like a school girl across the backyard last night. I was attempting to sort through the growing piles of end-of-the-school-year papers on the kitchen table when a flash of bright pink from the edge of our backyard caught my eye. My peonies had finally decided to bloom. Peonies are not only my favorite flower, but they hold a lot of special memories for me. I was dead-set on having huge bouquets of pink peonies for my wedding; however, not so keen on the idea of spending $4 per stem. So...Mom and I scoured the town of Allison looking for peony bushes, called several homeowners, and asked to steal their buds the day before my wedding. It sounded like a clever idea at the time, right?
The morning before the wedding, Mom and I beat the sun up with buckets in hand, ready to rid the town of Allison of their ant-infested blooms. We had a ball (or at least that's how I remember it three years ago), and we ended up collecting several buckets full of pink peonies. Now, if you know anything about peonies, they bloom around Memorial Day weekend and only stay pretty for about two-three days. Depending on the weather and the amount of rain, we were in for quite the gamble. I remember Mom gave me a card that morning with a picture of peonies on the front. I remember smelling up the entire church with the aroma of peonies, and probably filling the cracks and crevices with a colony of ants. I don't, however, remember what our plan 'B' was in case the peonies decided to bloom too early or too late...
Now, that distinct aroma fills my living room. It's still a baby plant, so I was only able to get about three buds cut from the stem. I'm hesitant to plant more, as I've heard peonies like to take over a yard; however, I could stare at the intricate blooms and smell their beauty forever. Ants or no ants, I'm a sucker for peonies.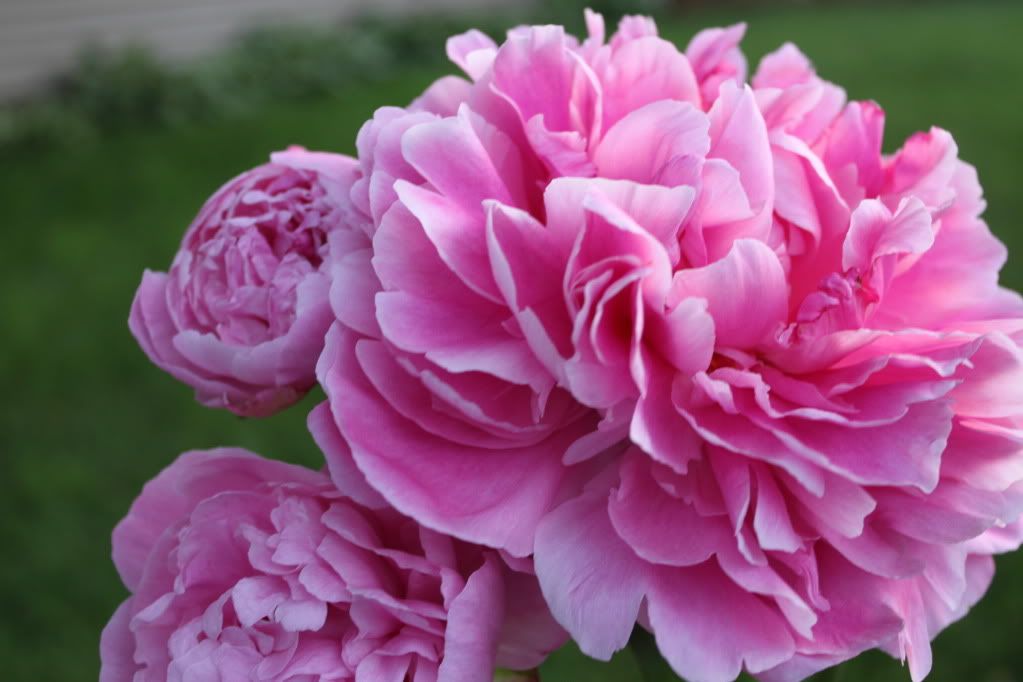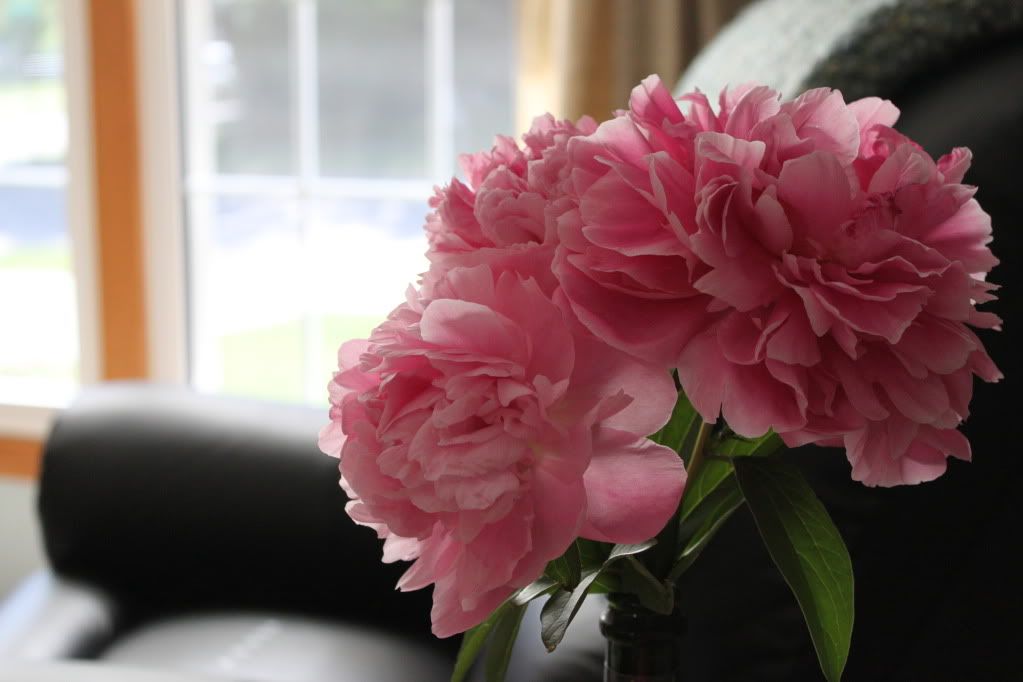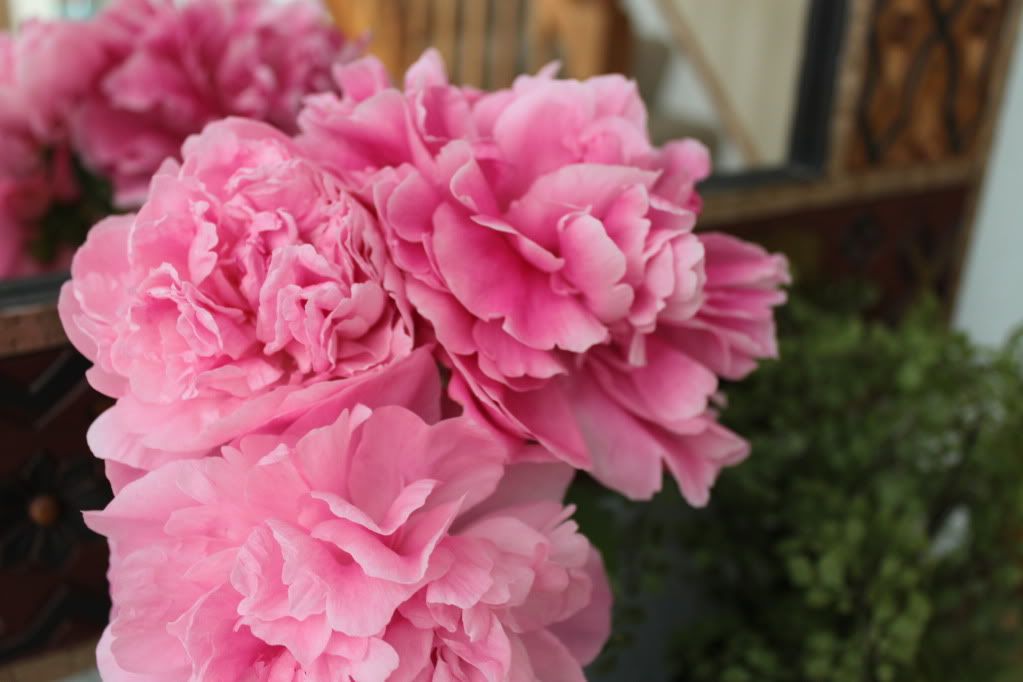 My next 'first' actually had Beau skipping like a school girl. Beau purchased his first Lazyboy recliner last weekend. Besides our kitchen table and a couple pieces of furniture Beau has made since we've been married, we have never owned a new piece of furniture. We are grateful for our hand-me-downs; however, with a baby on the way, we decided we needed something that rocked. And reclined. Let's just say, this chair rocks in more than one way.


Today also marks my first official afternoon of 'summer break.' We had an 11:30 dismissal, followed by a faculty get-together at Mulligans. I got some welcomed sun, three of my favorite Mulligans appetizers, and a few Arnie Palmers before heading home to begin the next several weeks of bliss. I still have a lot to do this summer, yet am looking forward to not having 'Go Cubs Go' wake me up every morning at 5:45.
I didn't get an official 'last day of school' picture, so I thought I would include pictures of a summer dreamland...last year we were leaving on a jet plane for Paradise! This year, I'm filling up my own inflatable 'paradise' family swimming pool!
It's SUMMER BREAK...Go fly a kite!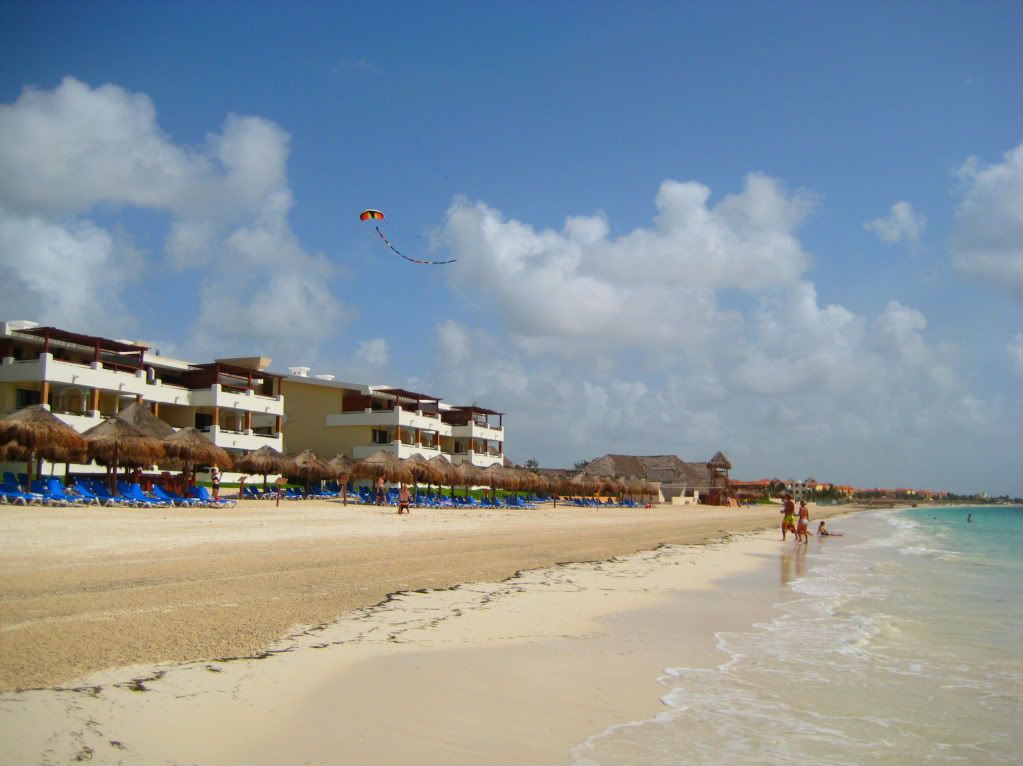 My final 'first' is one I've been waiting for. Wednesday night, I got home from my baby shower and unpacked all of my precious baby gifts. Beau left to go watch the Cubbies play for awhile and I settled on the couch for the American Idol Season Finale. Soon, for about the third day in a row, I started feeling really crummy. A mixture of heartburn, flu-like symptoms, tiredness, and crampy tummy had gotten the best of me and I decided to call it a night pretty early. I went to lay in bed; however, couldn't decide I was about to fall asleep or throw up. So, I laid really still, TV off, home alone, and rubbed my tummy, trying to soothe it. For the first time in a very long time, my mind was completely clear. I thought about nothing but how thankful I was that I hadn't felt this way previously.
I felt him three times. The first caught me a little off guard, as I didn't exactly know what to expect. The second, however, was stronger and there was no denying the fact that my little guy was moving. It felt like a little punch way deep inside my stomach. I'm not sure if it was a foot, or a head, or an entire body, but it was a feeling I've never felt before. And it was a feeling I didn't want to end! It was sooooo cool.

By the second kick, my nausea had subsided and I was fully concentrated on 'trying' to make him move again. I'd lay really still, rub my tummy, and wait. It happened one more time, slightly more faint than the time before. Beau was excited when I told him the news; however, I think he was a little jealous too. I told him it won't be long before he'll be able to see the shape of an entire foot pressing up into my boobs.
P.S. As I'm typing, my little guy is swimming! I can feel him so much right now; it's as if he knows I'm on Summer Break too! Either that, or I'm feeling slightly more clear-headed!
What 'firsts' have you experienced this week? Happy Summer!