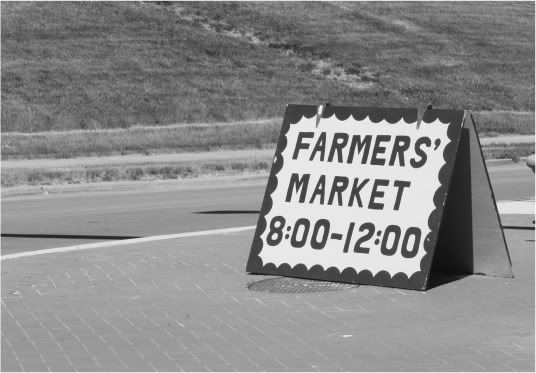 There's no combination of words
I could put on a back of a postcard
No song that I could sing
But I can try for your heart
Our dreams, and they are made out of real things
Like a, shoebox of photographs
at least for most of the questions in my heart
Like why are we here? And where do we go?
And how come it's so hard?
and sometimes life can be deceiving
I'll tell you one thing it's always better when we're together.
It's summer.

I'm amazed at how different I feel during summer break. My inner audio kicks on and I'm constantly serenated by the sounds of Jack Johnson. I'll admit, I become quite consumed with the life of a school teacher during the months of August through May. It's a constant struggle of mine to juggle all that I value and find important: my husband, my students, my family, my friends, my faith, my house, my meal-making, blog-writing, flower planting, and project-creating. I know I'm not alone in this struggle and am thankful and blessed to have this time off. Especially this summer, which is special in many ways. This summer will be the last summer of 'Beau and Ashley,' the last summer to live the way we've been living for the last six years...just the two of us.

If Day 1 of Summer Break is an indication of the rest of the haul, I'm all for it.
This summer day was beautiful. A cloudless sky, a hot sun, and a balmy 85 degrees.
This summer day included a morning to the Farmer's Market. Although the market included a sparse number of vendors, we pretended we lived in a big city and spontaneously picked out yummy foods to use for supper. I grabbed a loaf of bread and a bunch of ruhbarb, and Beau grabbed a strawberry smoothie (which I eventually helped him finish). We've decided to make the Farmer's Market a regular part of our summer agenda.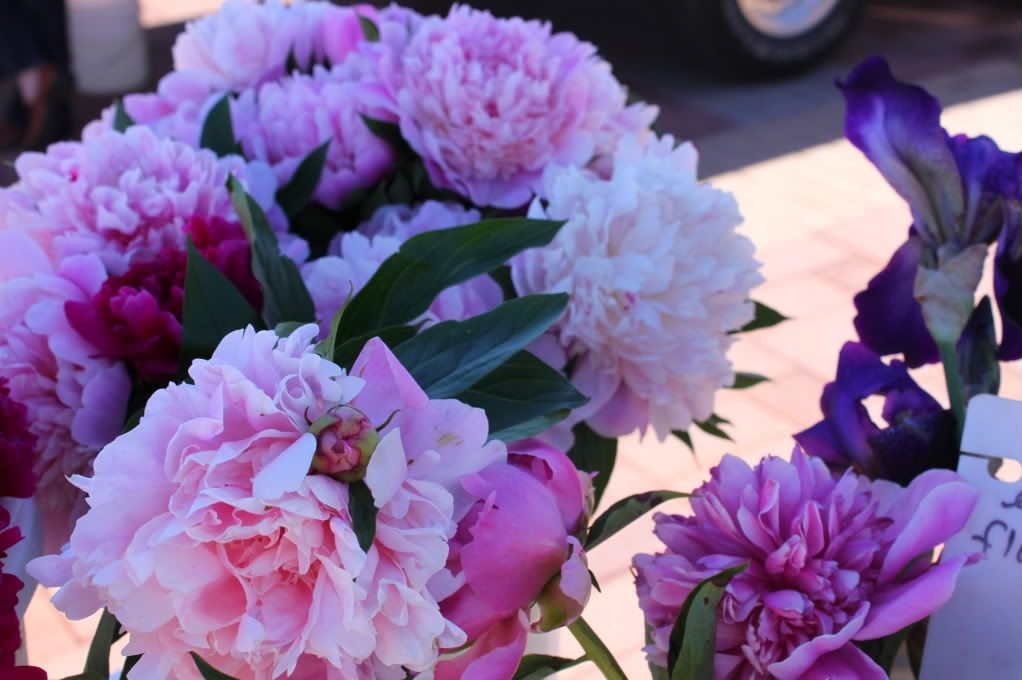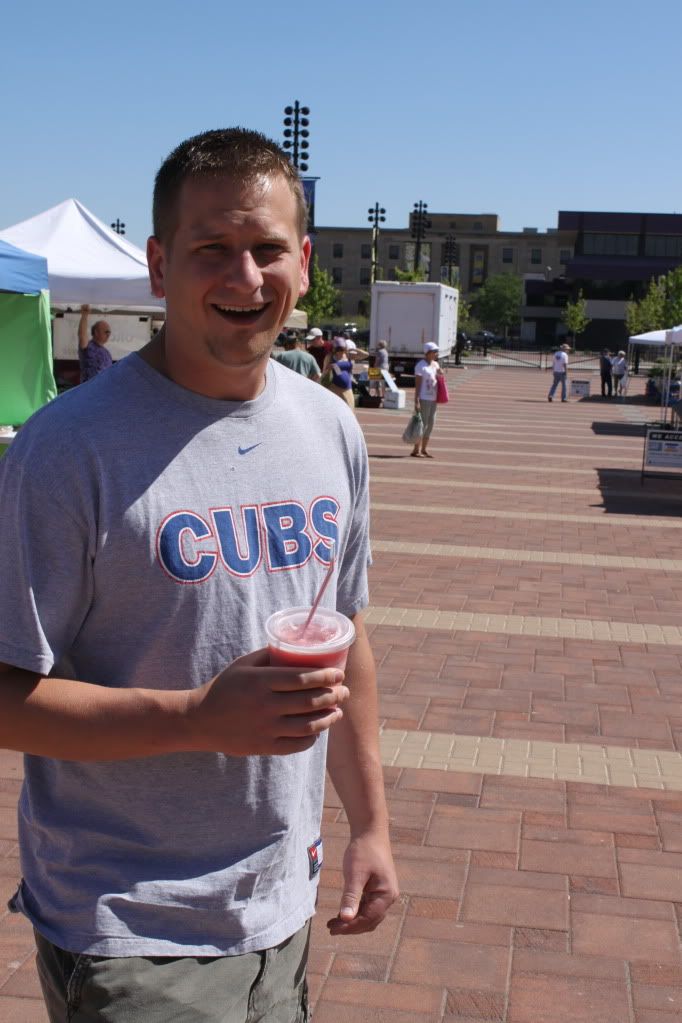 This summer day included a day at the pool. Our pool. Even though it takes up the entire walkway from our garage to our back door, we like our pool. We turned on the Cubs game, picked out some books, munched on cheesy popcorn, peanuts, and gummy bears, and felt a small piece of Mexico back in our blood. A small piece. Sure Mexico didn't have the constant buzzing of our air conditioner, the constant tree debris flying in and swimming amidst our floaties, or a filter the size of a fish bowl net, but we had water, we had floaties, and we had sun. Beau says our next step is to build a swim-up bar next to our pool. I think our next step is a plan to keep the June bugs from taking a dip in our pool at night!
Yep, there's the baby bump, soaking up the rays. Embrace it, darn it!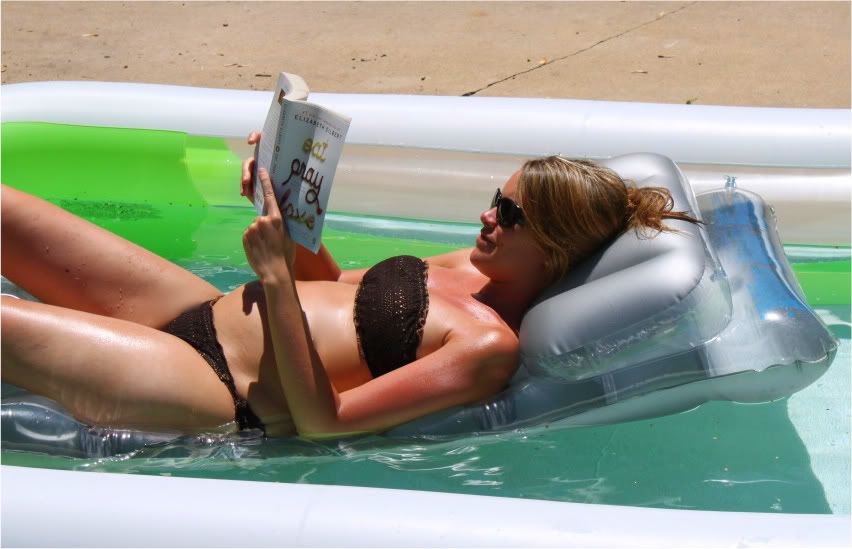 This summer day included a spontaneously planned dinner of grilled strips with a crazy-flavored green sauce, bread for dunking and dipping, grilled maple sweet potatoes, watermelon, all topped off with a slice of Perkins' apple pie (I said this was spontaneous didn't I ;).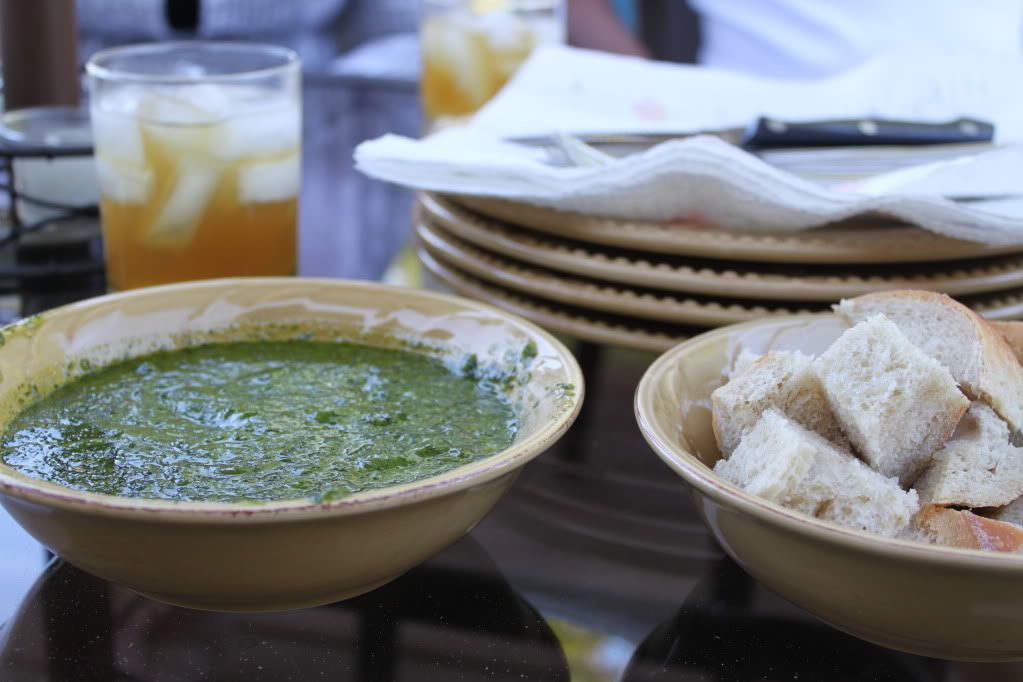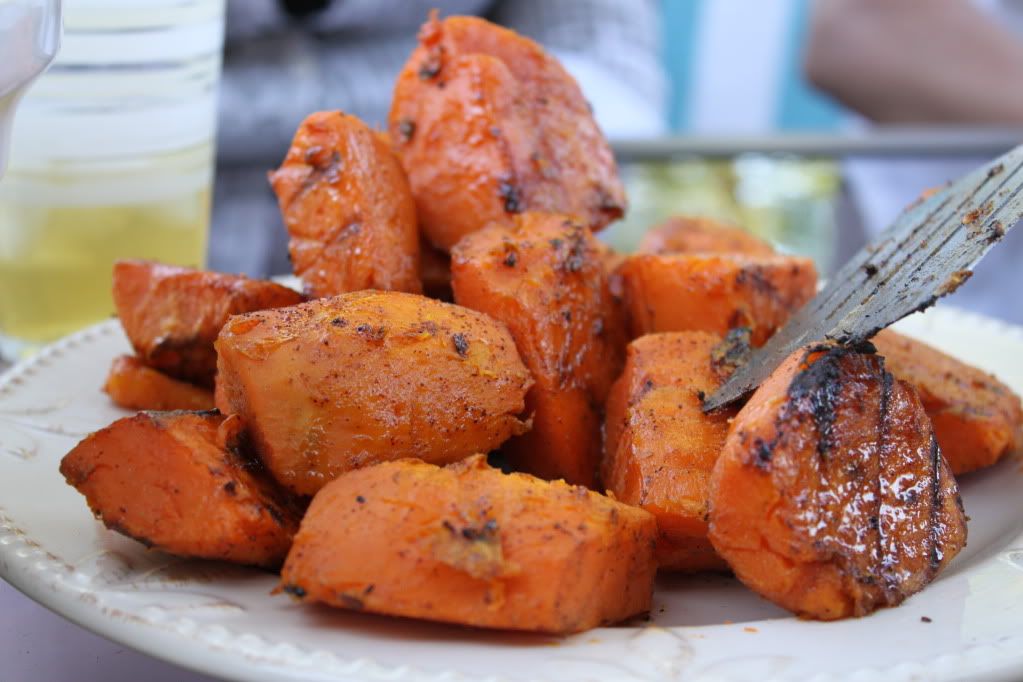 This summer day included laundry, Comet in the sink, a trip to Menards, and an overdue kitty litter cleaning. This summer day aimlessly forgot to finish grading the tests, update the final grades, and unpack the school bag.
This summer day was Jack Johnson. This summer day was relaxation. This summer day was us.

Recipe for Maple Glazed Sweet Potatoes (Bobby Flay style):
4 sweet potatoes, peeled, quartered, and boiled until soft
¾ cup maple syrup (I make this from scratch by using sugar and mapleine extract)
1 tbsp. chili powder
Salt
Veg. oil

While potatoes are boiling, mix maple syrup, chili powder, and salt to taste. Drain potatoes when soft, yet solid (grill-able). Before placing over hot coals, brush each potato chunk with vegetable oil to prevent sticking. After placing on grill, brush heavily with maple syrup mixture. Turn and grill until evenly and slightly charred. Yum!