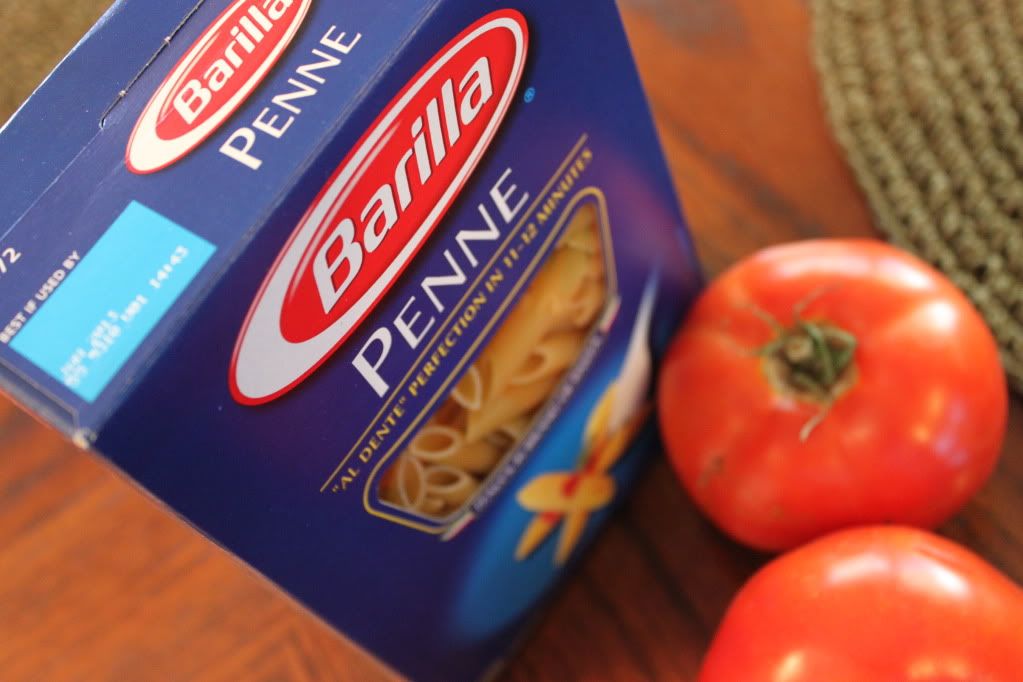 The purpose of this post is to pay homage to one of my all-time favorite meals. It's a meal that is not only delicious and fairly easy to make, but it's a sort of history piece for us as a couple. All summer, our suppers revolve around the grill. Burgers and hot dogs, grilled chicken and cedar plank salmon, and of course, big, fat, juicy steaks. There's (almost) nothing better than a good old fashioned, all-American supper....
That is, if we're forgetting pasta alla vodka.
Here's an excerpt from an essay I wrote about my journey learning, and loving, to cook:
I guess you could say my journey learning to cook is as if reading an open book. I never liked cooking while I was growing up; in fact, my mother worried that she failed to pass on her homemaker genes to me. I was perfectly fine getting by on Hot Pockets, Pizza Rolls, and pudding cups, and preferred going out to eat instead of staying in, cooking, and accumulating a counter-full of dishes in the process.
It wasn't until "The Sopranos" came into my life that Carmela Soprano, my New Jersey, mobster-wife and my boyfriend (later turned husband), turned me on to great Italian food. What started as a couple episodes of the HBO legend here and there, accompanied with a plate of Barilla noodles and red sauce, evolved to all-night marathons of mouth-watering bruschetta, fresh linguine primavera, savory chicken piccata, and hours of nail-biting, cursing, and bonding behind the television set. The smell of fresh garlic simmering in a pan of olive oil, the taste of crushed tomatoes and fresh basil, and the flash of dimly lit candles illuminated our run-down college apartment and swept us off to another world of wealth, romance, and passion. Cooking became our escape, our refuge, and our idea of a perfect date.
Years later, I am still cooking; however, my palette has now reached realms far beyond Italian cuisine. I see it as an art; a way to create and a way to show love to others. Although I now experiment often with Greek, Asian, and Mexican-inspired dishes, there is still a comfort that comes along with cooking a great Italian meal, paired with a glass of vino. I'm 98% German by birth, but hold the heart and palette of an Italian.
Last Tuesday, after a long day at work, Beau and I shared some bonding time behind our cutting boards and paring knives. We minced garlic extra small, boiled penne until it was perfectly al dente, and shared frequent spoonfuls of the sauce just to make sure it was seasoned right.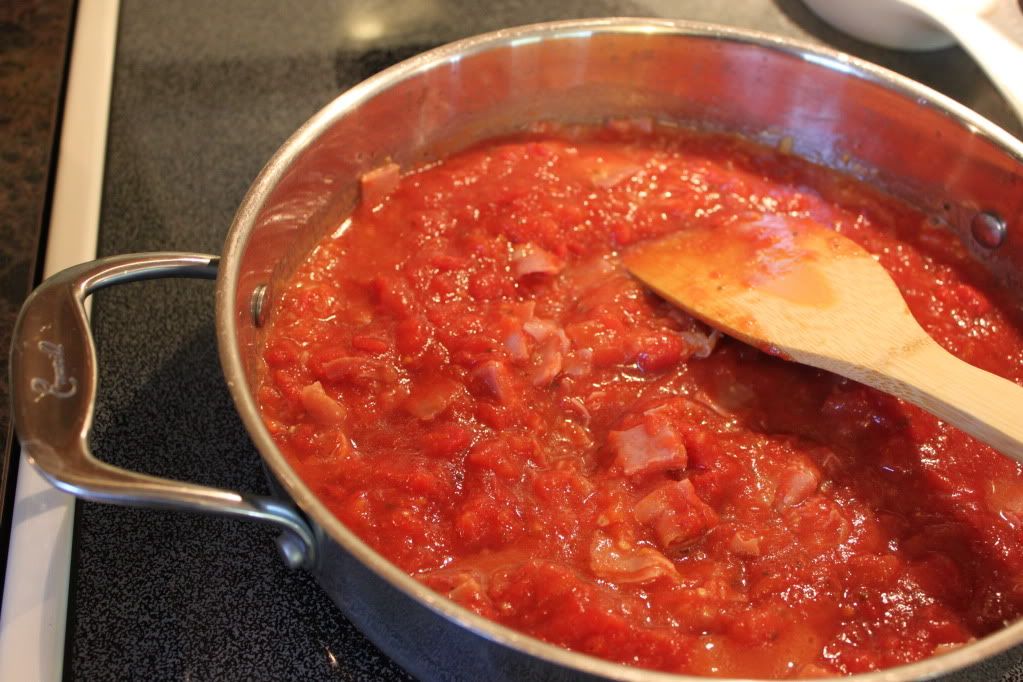 Thanks to my sister-in-law, Gina, I replaced my usual glass (or two) of wine with Archer Farm's Italian Soda.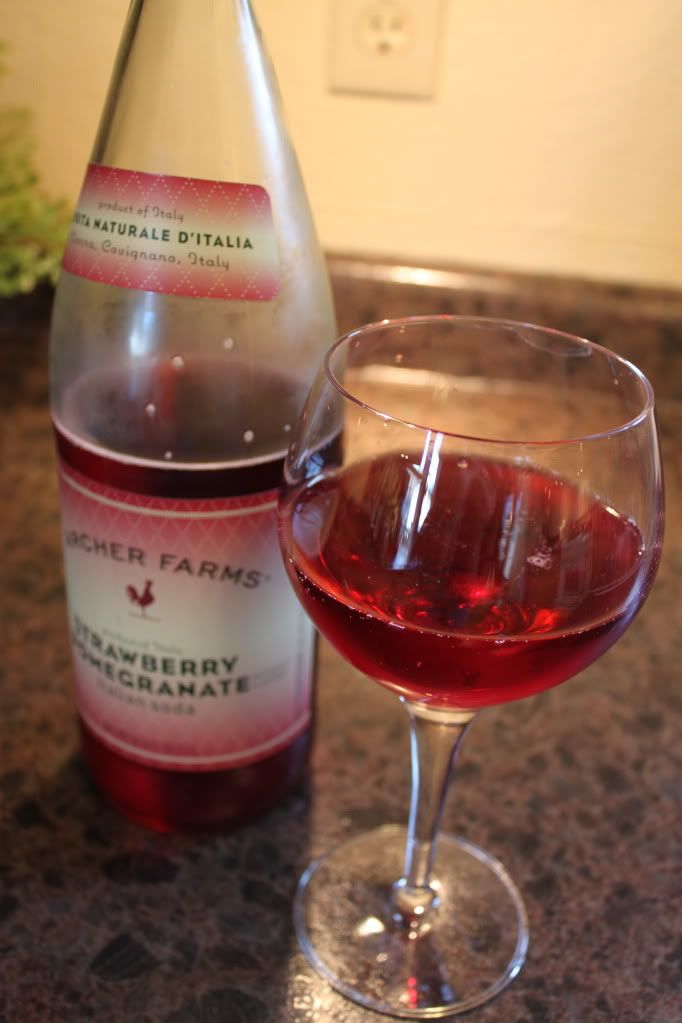 It was a lovely meal, a lovely night, and a lovely week of leftovers!
And now, for the recipe....
-3 tbsp. butter
-4 large garlic cloves, minced
-4 oz. thinly sliced prosciutto, cut into thin strips
-1 28 oz. can Italian Chopped Tomatoes
-1/2 tsp. crushed red pepper
-1/2 cup heavy whipping cream
-1/4 cup vodka
-salt
-1 lb. penne
-1/2 cup Parmesan
-In a skillet over medium heat, melt the butter. Add the garlic and cook until golden, about 3 minutes. Stir in the prosciutto and cook for another two minutes. Add the tomatoes and red pepper, simmer and stir frequently for 5 minutes. Stir in cream and cook, stirring for an additional 2 minutes. Add vodka and cook 2 minutes. Season with salt.
-Meanwhile, bring a pot of salted water to a boil. Add pasta and cook until al dente. Drain.
-Add the pasta to the sauce and toss until well-coated.
-Sprinkle with freshly grated Parmesan cheese...
P.S. This makes great leftovers!