Yesterday, I was showered. My sister-in-law, Gina, threw Baby J and I a shower full of surprises and perfect little indulgences. Being a former gift shop owner, Gina is a woman of many talents when it comes to colors, staging, parties, and planning. This party did not disappoint!
The brunch was held at Beau's mom and dad's house. Beau's dad used to be a manager with Farm Bureau. During this time, Mary became an important figure within the agency...she planned and hosted several agency events, usually consisting of 50-75 people, a sparkling house, and a completely homemade meal, from appetizers all the way to desserts. Although Ray no longer works for Farm Bureau, Mary misses her 'people' and her role as hostess. Any chance Mary has to entertain at her home, she takes full advantage of it!
The party was complete with lots of family friends, yummy food, and wishes for sweet Baby J.
Check out the cheesecake! A soft, melt-in-your mouth crust, refreshing lemon cream cheese filling, topped with whipped cream and fresh fruit. Good thing everyone helped eat it, otherwise, I would have added on a few extra pounds of 'baby' weight!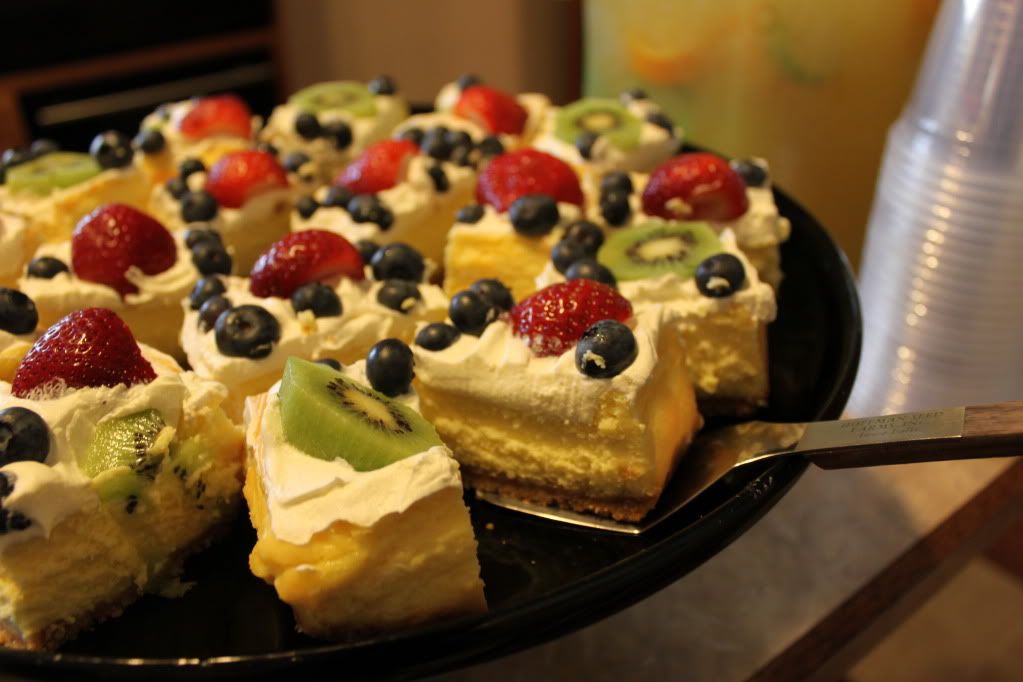 I was blessed beyond words with lots of adorable lute for Baby J! From a number of cute onesies, to a baby grooming kit, to a boppy, vibrating chair, and motorized cradle swing, we definitely feel a little more prepared to entertain (and dress) this little one.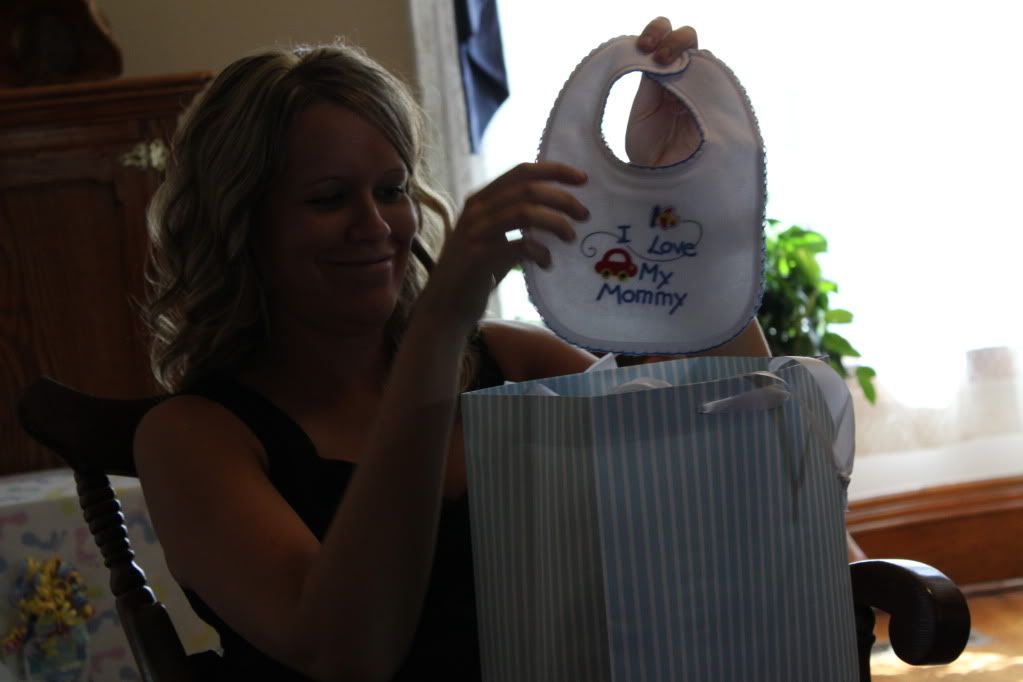 Speaking of little ones, I had lots of little ones to help tear through the baby blue wrapping paper. Lily and Eli, two of Baby J's third cousins, entertained us, and it was fun to meet Cora, a sweet little two-year-old. At one point, as Cora was enthralled with my baby bump, I told her there was a baby in there. Not thinking much past this declaration, I was surprised when Cora proceeded to lift up my skirt to see exactly where this baby was hiding! I have a lot to learn when it comes to conversing with toddlers!
Charly was perhaps the biggest party animal of the day! Her eyes got big and her little arms starting moving like crazy when she was within reach of the load of pretty packages, but when little Eli was within arm's length of Charly's grasp, the giggles and smiles were going like crazy!
This is the afghan Grandma Henrichs surprised me with. It is exactly what I had pictured; well, without the utter grief the thick boucle yarn caused my poor grandma! I love the color of blue and can't wait to wrap Little J up in it this winter!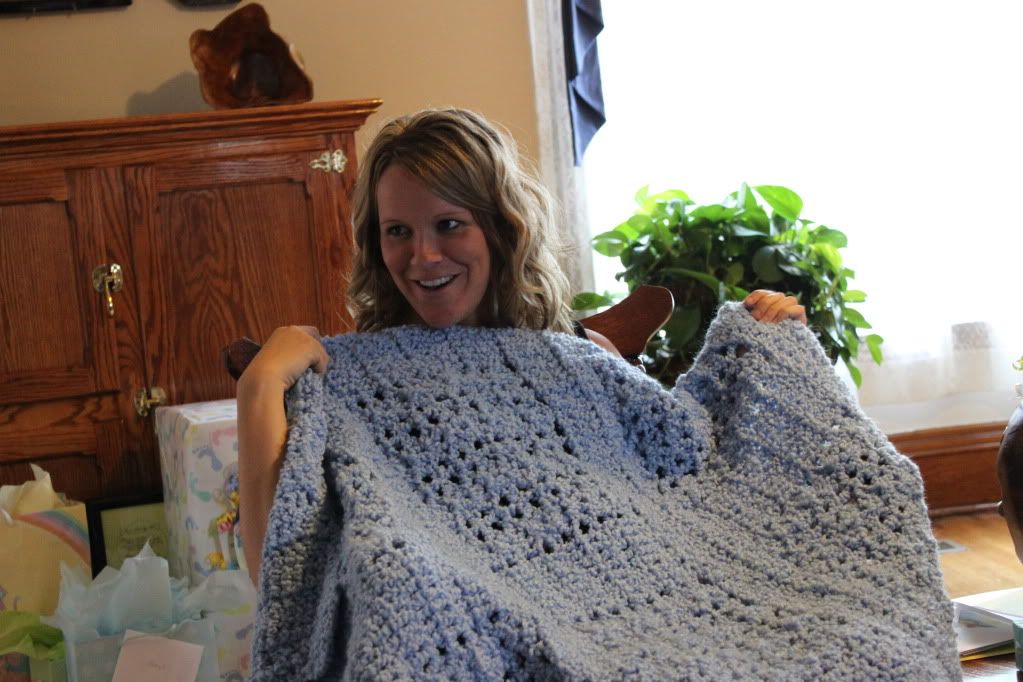 These two furry friends will keep Baby J nice and warm after bathtime. I love the Critter Pals from Pottery Barn! Grandma Kelly gave us the elephant and Aunt Kelli the hippo!
The Jorgensen girls (Janet, Kelly, and Jill) really came through on the Cubs paraphernalia. Good thing they went with a Soriano t-shirt instead of Theriot!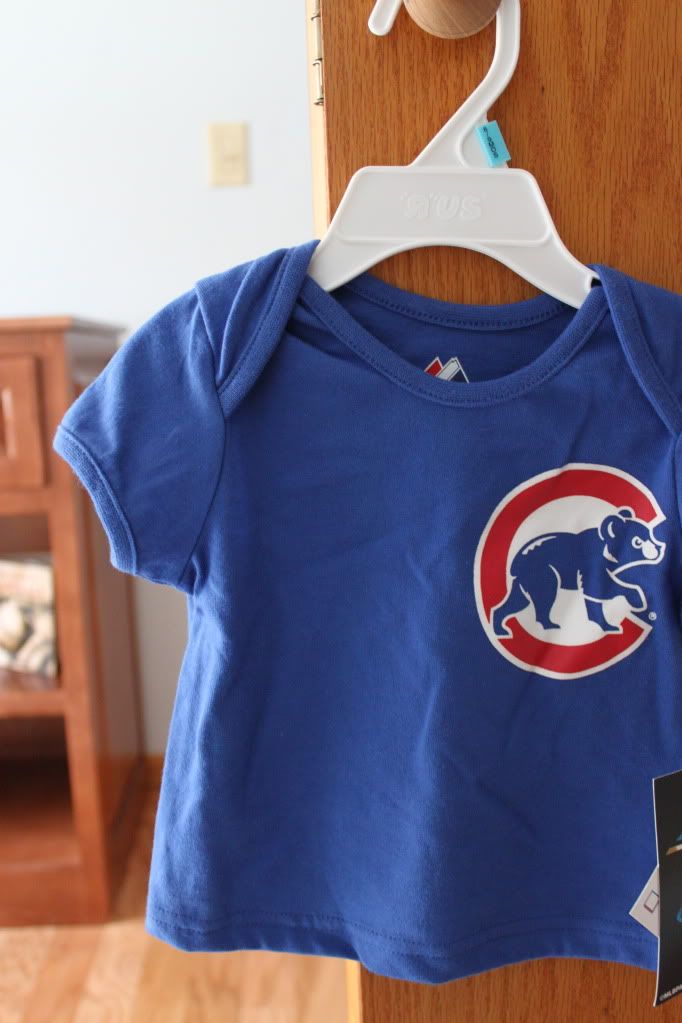 Last night, I drove home with the Kia packed full. I was exhausted and I hardly had the motivation to unpack the car, let alone the numerous gift bags. I set them on the kitchen floor, warmed up some supper, and was sound asleep by 10:00. This morning, though, was the most fun. I took my time carefully going through each package, reading cards, tearing off tags, and daydreaming about a little boy dressed in blue. I spent way too long folding and refolding, tying and retying, and finding the perfect places for the new stuff. Before I knew it, it was mid-morning and the entire house was filled with the smell of Dreft. It's definitely a smell this girl can get used to!
(Baby J and I with the Hoodjer and Henrichs women...my grandmas, mom, sister-in-law, and niece.)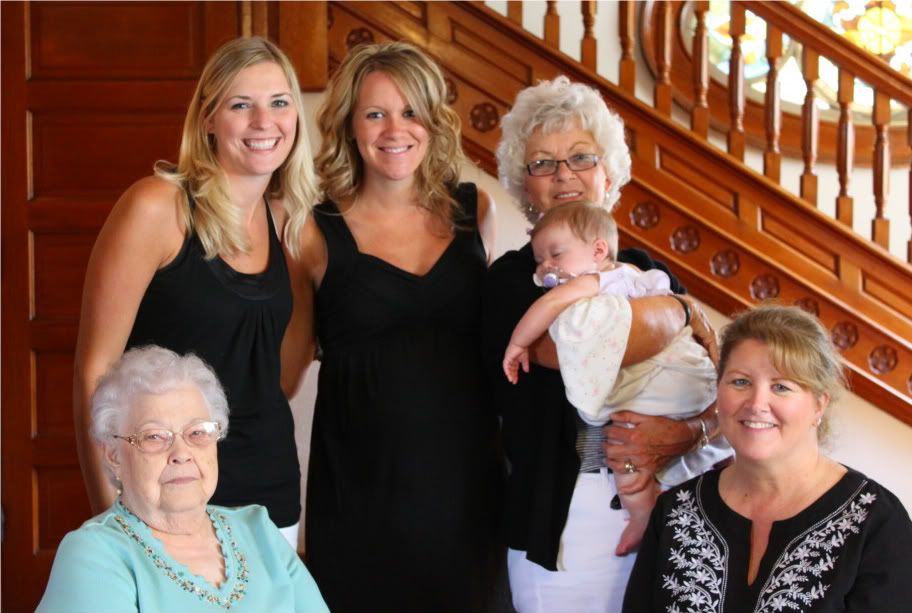 (Gina, Mary, and I...thanks for a fabulous party!)