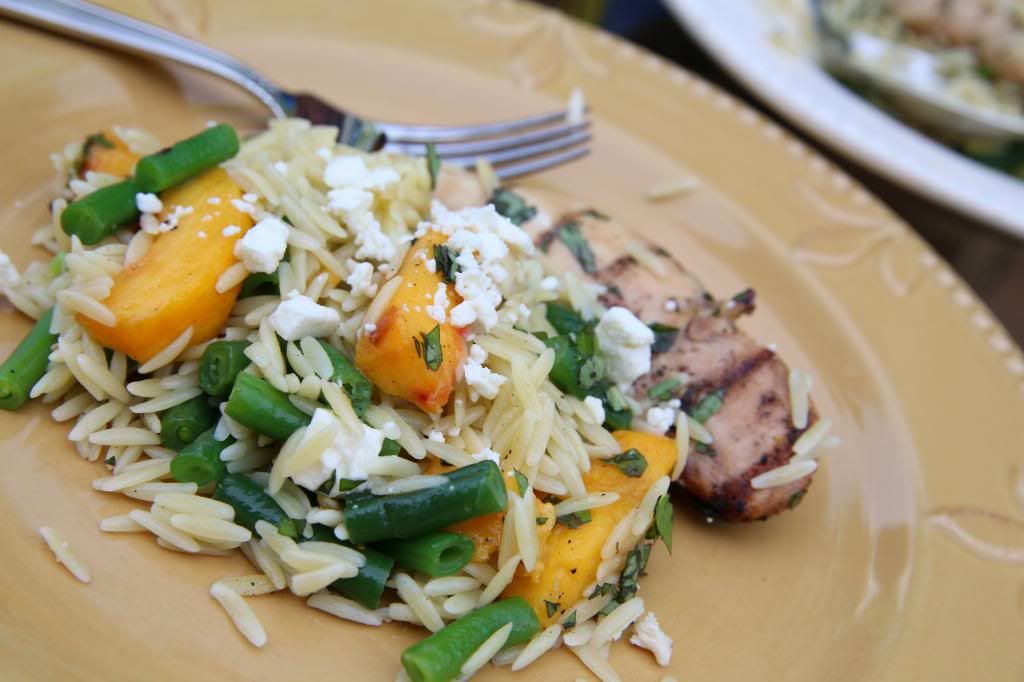 It's no secret that this baby mama has been craving some Georgia peaches since her return from vacation a couple of weeks ago. I may have canned most of my bulk; however, I set some aside to experiment with a few savory summer dishes on the grill. I'm sharing an interesting one that combined fresh herbs from the garden, grilled chicken, yummy green beans, and ripe peaches. I happen to love any dish that combines sweet fruit with savory protein; however, my other half is not usually a fan. This one surprised us all. Cruz ate it, Beau loved it, and it made wonderful leftovers. It was easy, too, but looks complicated...any chef's perfect combination.
If you've never cooked with orzo before, it's in the pasta family (and found in the pasta section of your grocery store), but resembles rice. It's a great addition to salad-type dishes like this, but could always be replaced with another pasta --- just use less!
Grilled Chicken With Peaches, Green Beans, and Orzo
What you need...
8 oz. dried orzo
2 1/2 cups fresh green beans, snipped and cut
1 pound chicken tenders
3 peaches, peeled and cut into wedges
1/4 tsp. each salt and pepper
2 tbsp. olive oil
2-4 oz. crumbled feta
fresh basil, thyme, 1-2 tbsp. depending on your taste buds!
What you do...
1. In a large saucepan, cook orzo according to package directions. Add green beans during last 5 minutes of cooking time. Drain; do not rinse.
2. Meanwhile, lightly brush chicken and peaches with some of the oil; season with salt and pepper. Grill over medium heat for 4 to 6 minutes, until no pink remains in chicken and peaches are tender and grill-marked.
3. In a large bowl combine orzo, beans, grilled chicken and peaches (chopped, if desired), feta, and herbs. Drizzle with remaining olive oil; season with salt and pepper. Serve!