I always loved the anticipation that surrounded the days leading up to a vacation. My family wasn't big on lavish, see-the-world vacations; in fact, we stuck to the same few destinations while I was growing up: Twins games at the Dome, the Mall of America, and the Minnesota Zoo. As a little one, however, it was all the same to me. It was a chance to pack my very own suitcase, complete with lots of 'necessities' that would never make it out of the bag. A chance to plan a number of 'time fillers' for the car ride, and fight over who got to sit where in the mini-van, so I knew ahead of time exactly where to place my favorite pillow. The adventures of the car ride didn't compare to the exhilarating feeling of entering our hotel. Our first look at the indoor pool. Our first jump on the bed. Shaking with excited shivers as we curled up under the cold covers and dreamed about the fun that was in store for the days ahead. I have so many memories of Minnesota trips with my family; trips I hope to recreate with our littles someday…

This weekend, I felt some of that same anticipation as Beau and I set off on a little getaway to a destination we had yet to explore…the city of barbecue, jazz, and fountains that is Kansas City. It was time for a weekend away for the two of us, to reconnect after a busy semester and start to summer; a time for important 'Beau and Ashley' time before we add one more to the mix.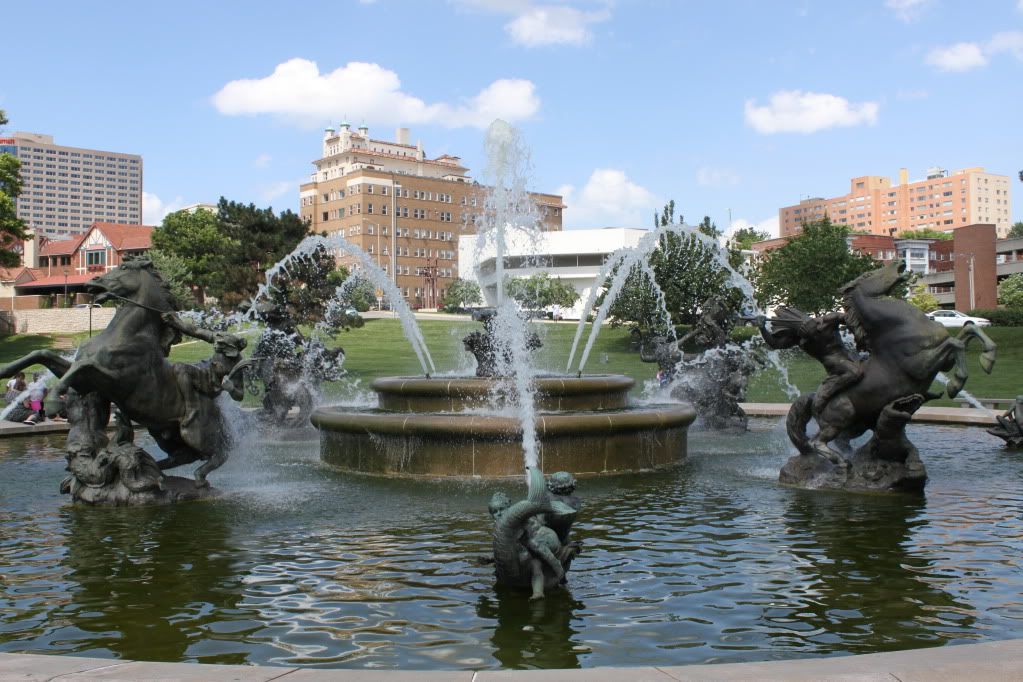 KC was more than both of us were expecting. It was just what we needed. It had all the charm of the Midwest, yet gave us the big city flair we love. There was enough to do, yet we had time for afternoon naps, great talks, and long, purposely drawn out dinners. Food was a big part of this trip and it turns out, Kansas City is a great place to eat! This pregnant woman took full advantage of all the different choices (and talked my husband out of barbecue for every single meal).
Most of all, I appreciated all the time I had to spend with my husband, minus the distractions of everyday life that cloud our minds at home. Beau turned off his work email, I left my laptop behind, and we focused on each other. It's amazing what a few days away will do for a couple. We held hands, flirted with each other, and acted a lot like we did the first summer we started this adventure.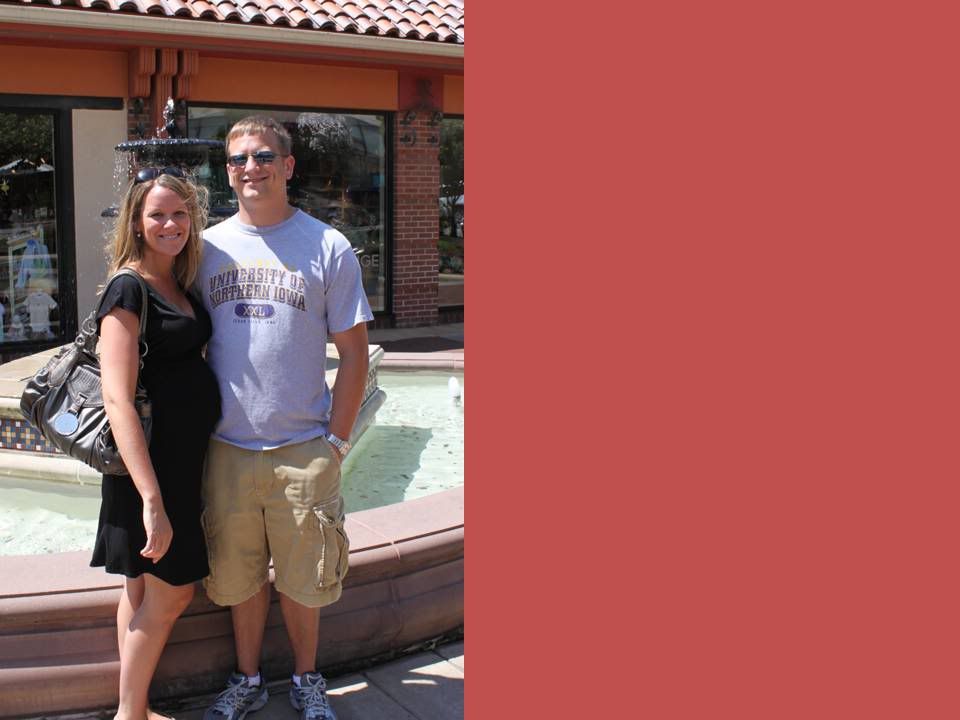 Beau and I are great at car rides. With a mixture of Jay-Z, gummy worms, a mind-numbing edition of the name game, and our infamous pictures-whilst-driving, we can make five hours of driving seem like two. Sometimes, I find myself having so much fun that I don't want the trip to end. Last summer, we got stuck in rush hour traffic for two hours outside of Chicago…we had peanut shell throwing contests out the sunroof. This weekend, we stopped and had a picnic at a pretty little rest stop on the Iowa/Missou border.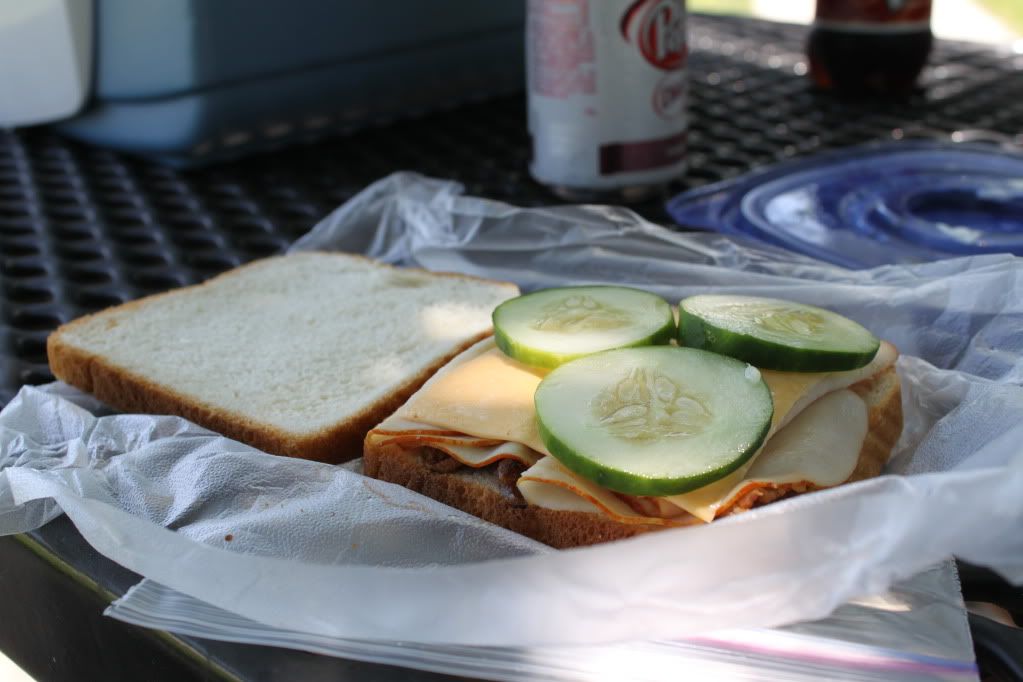 Thursday night, we went to a Kansas City Royals game at beautiful Kauffman Stadium. Let's just say it is a little different than Wrigley. Kauffman's outfield is lined with gorgeous fountains that turn colors as the sun goes down. Wrigley's outfield is packed with sweaty, drunken bleacher bums. Kauffman has a vast array of food options: a Mexican Cantina, a barbecue joint, and a homemade limeade stand. Wrigley has three options: a hot dog with ketchup, a hot dog with mustard, and an Old Style. Kauffman has a carousel, a jumbo-tron, fireworks, and Sluggerrrr, a lively crowned mascot. Wrigley has an organ, some ivy, and Ron Santo. Kauffman had the beauty; Wrigley has the charm. I loved both stadiums for different things. Since we could never afford lower level, infield seats at Wrigley, we decided to splurge and sit ten rows up on the third base line. The crowd was fun, the Royals beat the Astros 4-2 in the ninth, and Warren Buffett through the first pitch!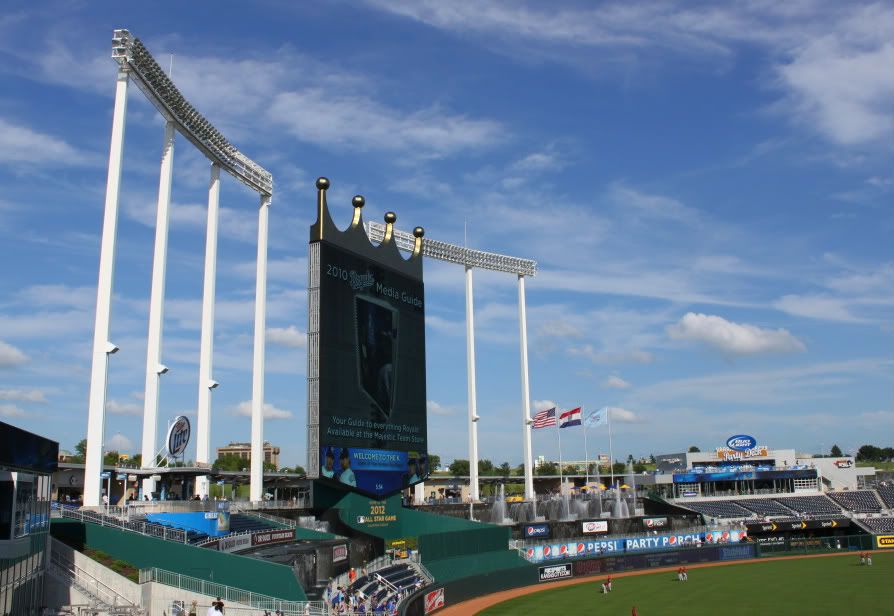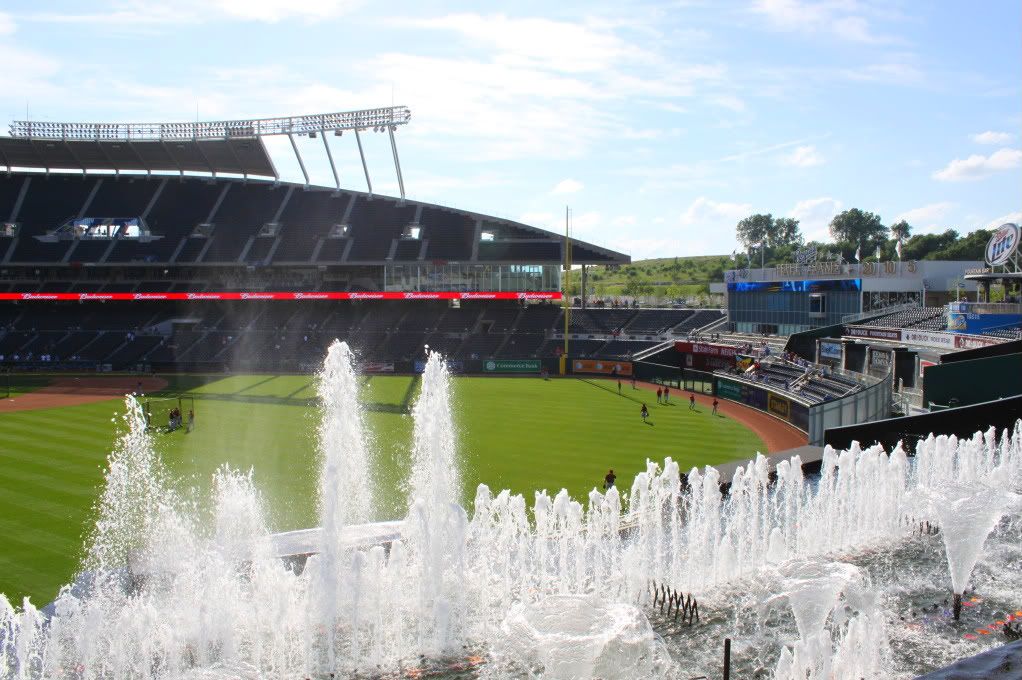 It's true...my husband wore a Chicago Cubs t-shirt to a KC Royals game. I think that's against code or something.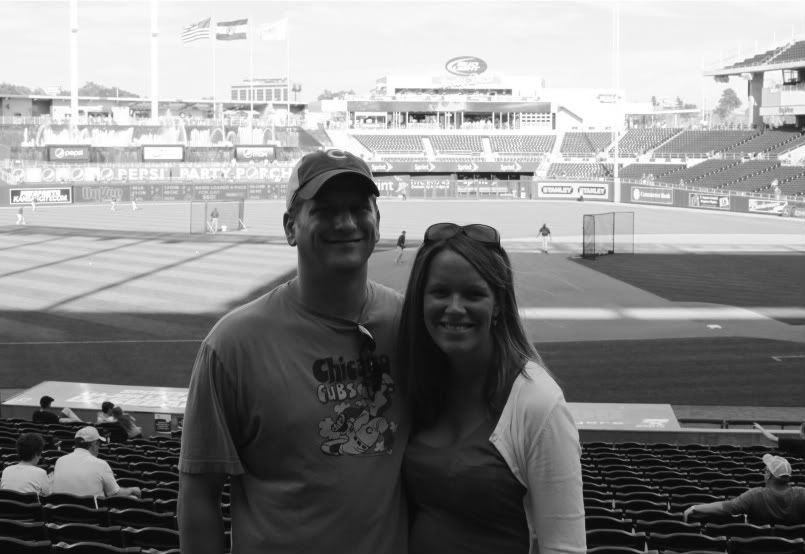 I love this picture. In the 9th inning, the entire section is paying more attention to the mascot than the game!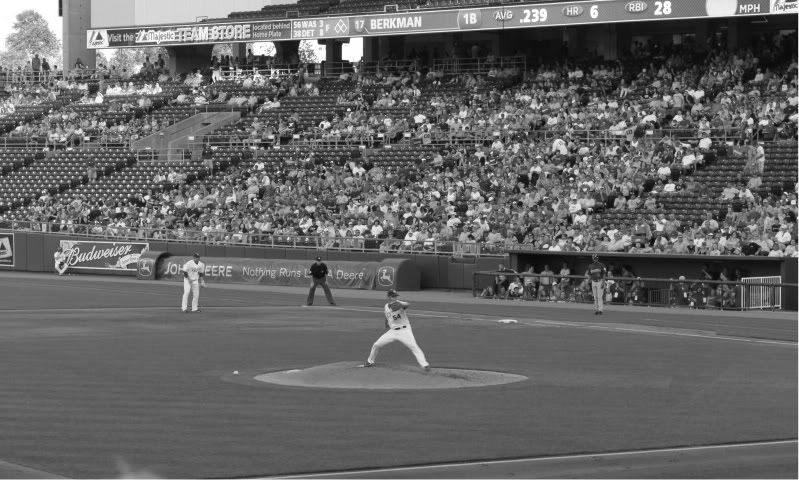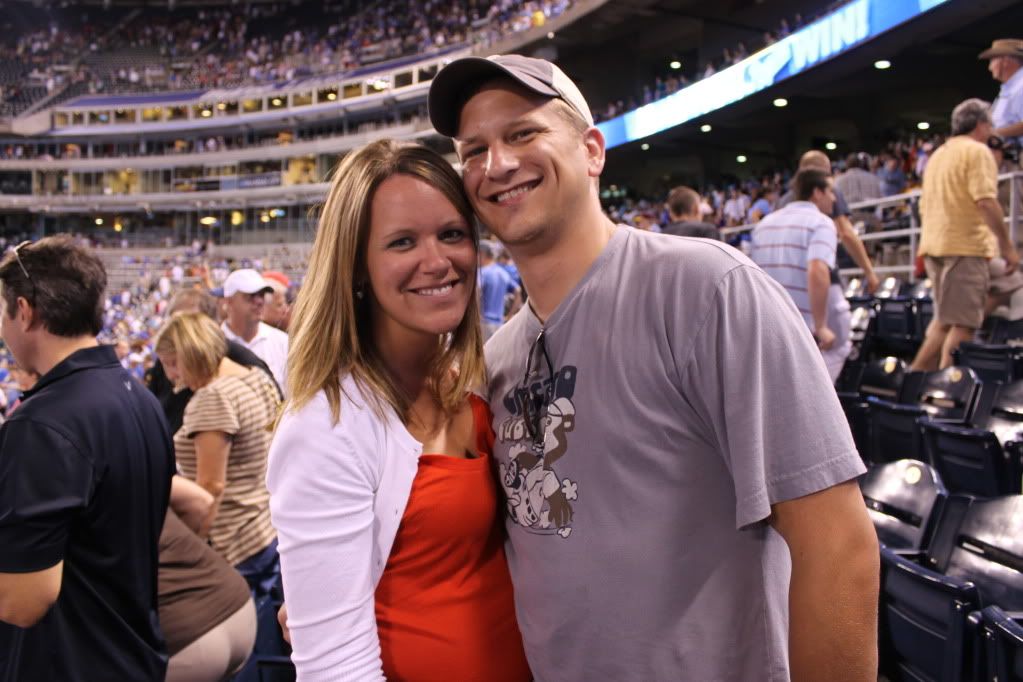 If there is one word I could use to describe Kansas City, I think it would be 'quaint.' Everything about this town speaks splendor and style. We stayed at the Country Club Plaza, full of great shopping, little cafes, and pretty architecture. We strolled the streets, checked out the shops, and carefully deliberated on the best places to eat…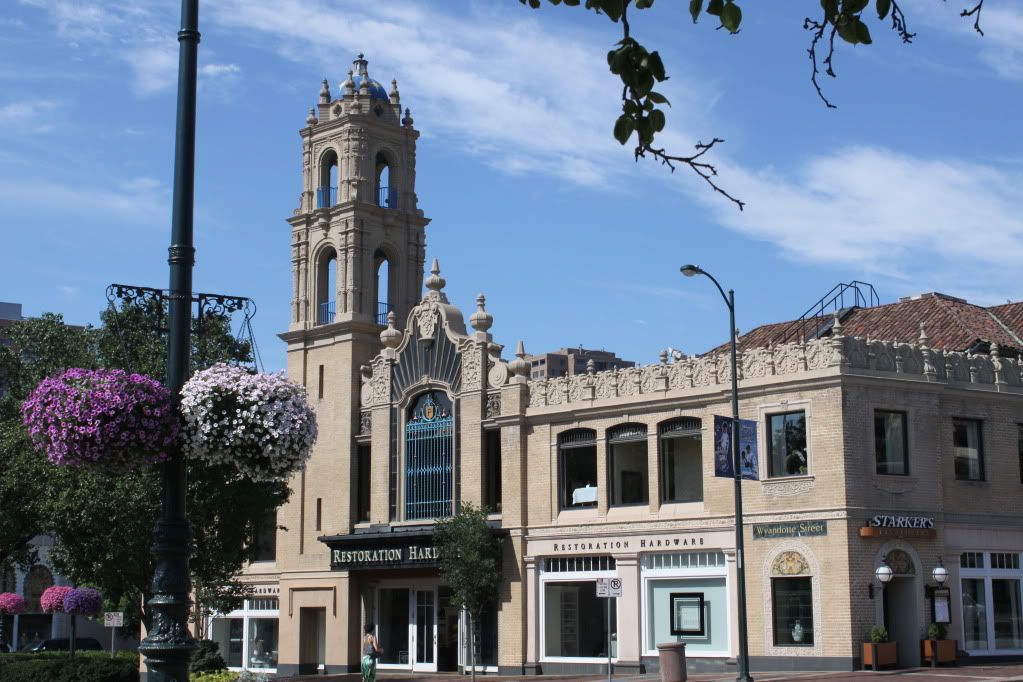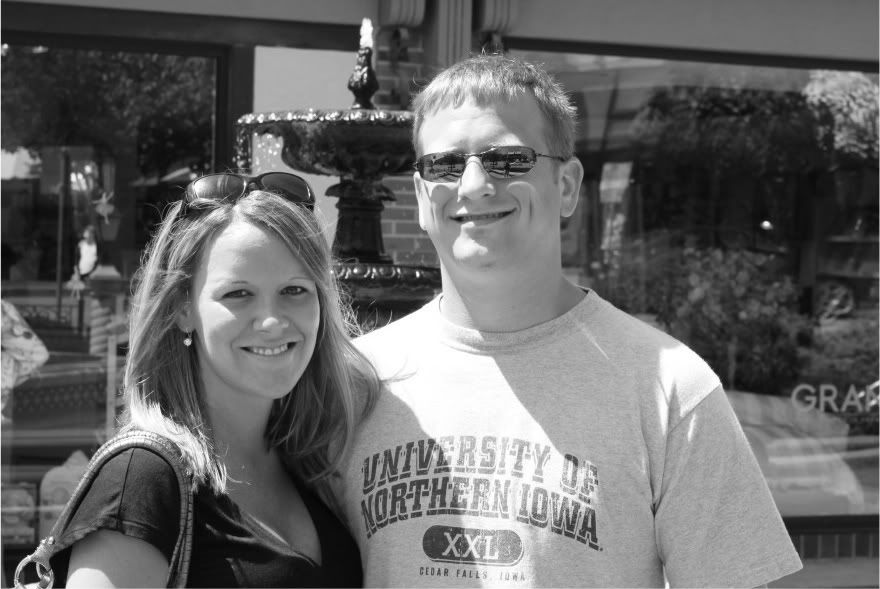 Buca de Beppo's - a quaint little Italian place that takes up an entire city block…underground. Served family style, the place screams little Italy, with thousands of random pictures (like calico cats in front of the Roman Coliseum), an entrance that forces you to walk through the kitchen, and a 'pope room,' complete with a statue of the pope on a lazy susan, so he can stare you down while you slurp your spaghetti noodles and house a bottle of wine.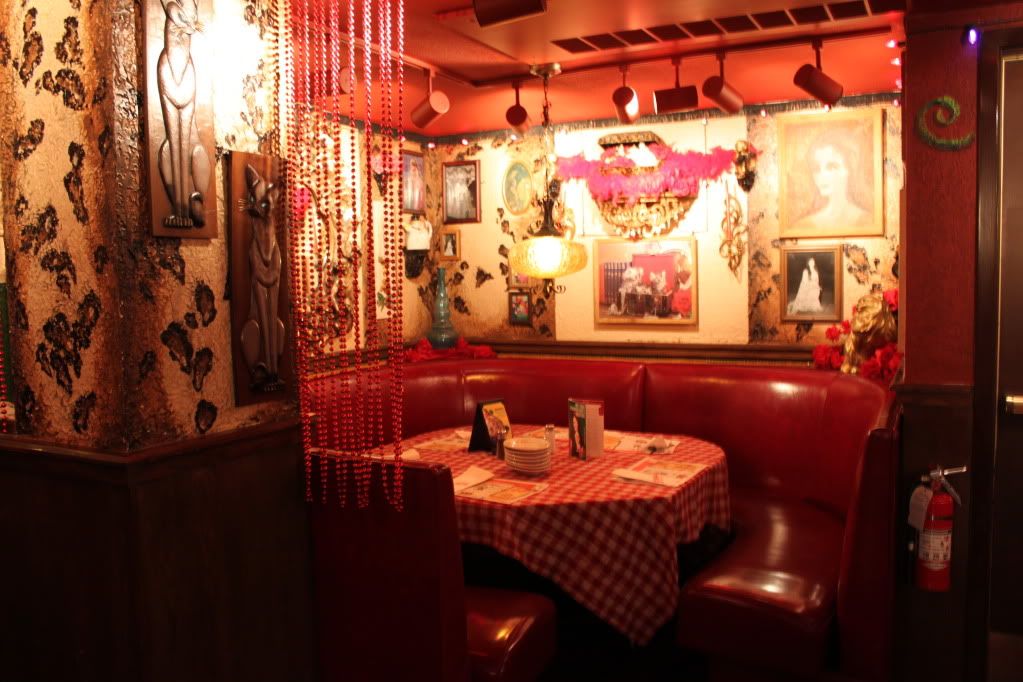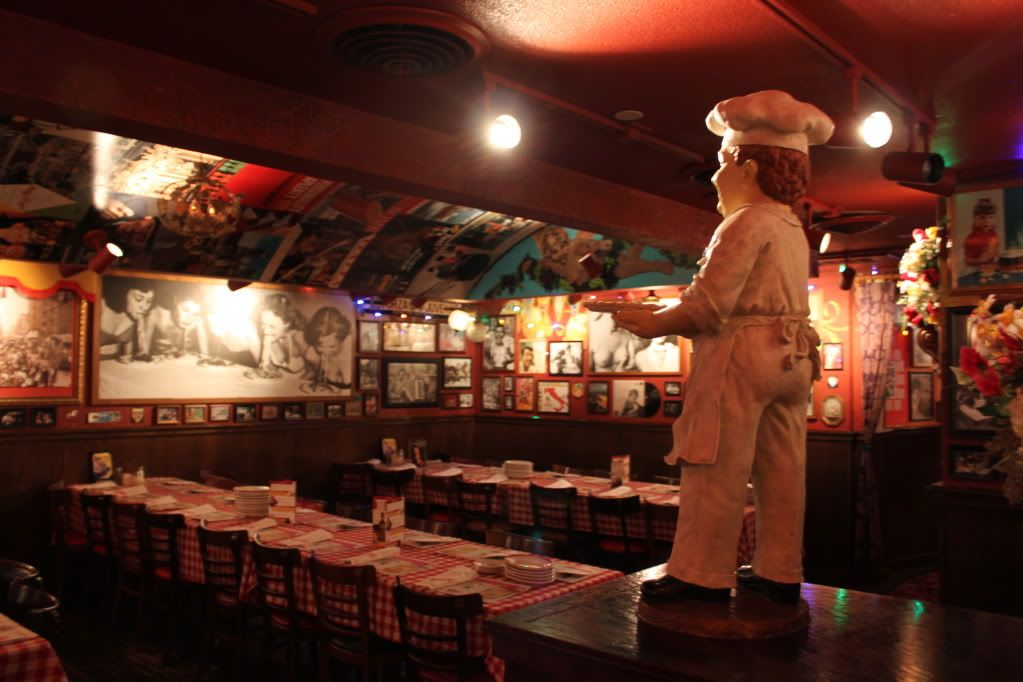 …An afternoon stop at the Gelato Café was a very important part of our afternoon. The gelato was supposedly the best in the Midwest; therefore, I took my selection seriously. After sampling several flavors, I settled on mint chip and coconut. We sat at a small little table, watched the World Cup, and for a minute, pretended I was in Italy.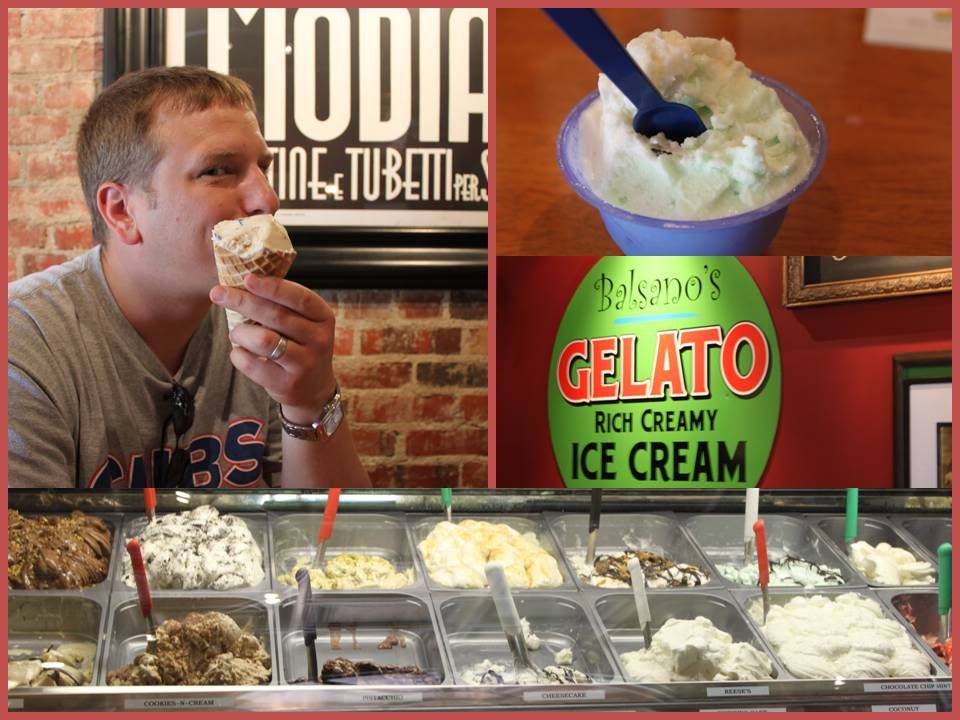 If only Cedar Falls would spend millions of dollars on such a place as the Power and Lights District! The restaurants, bars, and shops all meet in the center of town to make up an outdoor venue with cushy chairs, free concerts, and one of the neatest nightlife experiences.
Perhaps my favorite part of the trip was sneaking out to the balcony at our hotel, which overlooked the city's skyline. We laid on our backs on a couple of beach chairs, listened to the cars, and dreamed about trips to Disney World with our littles.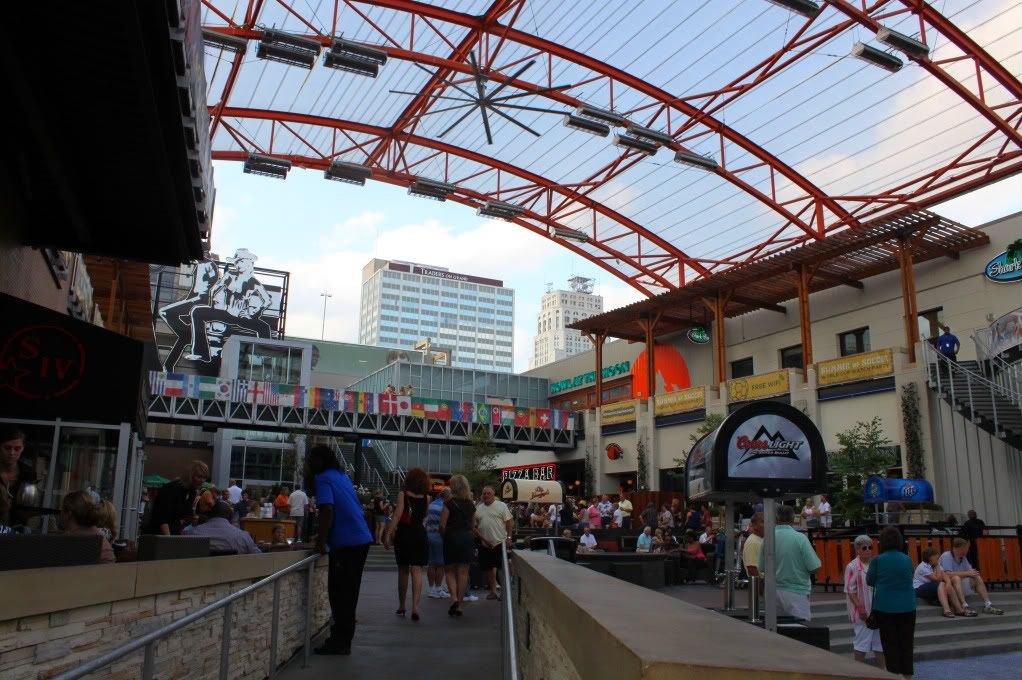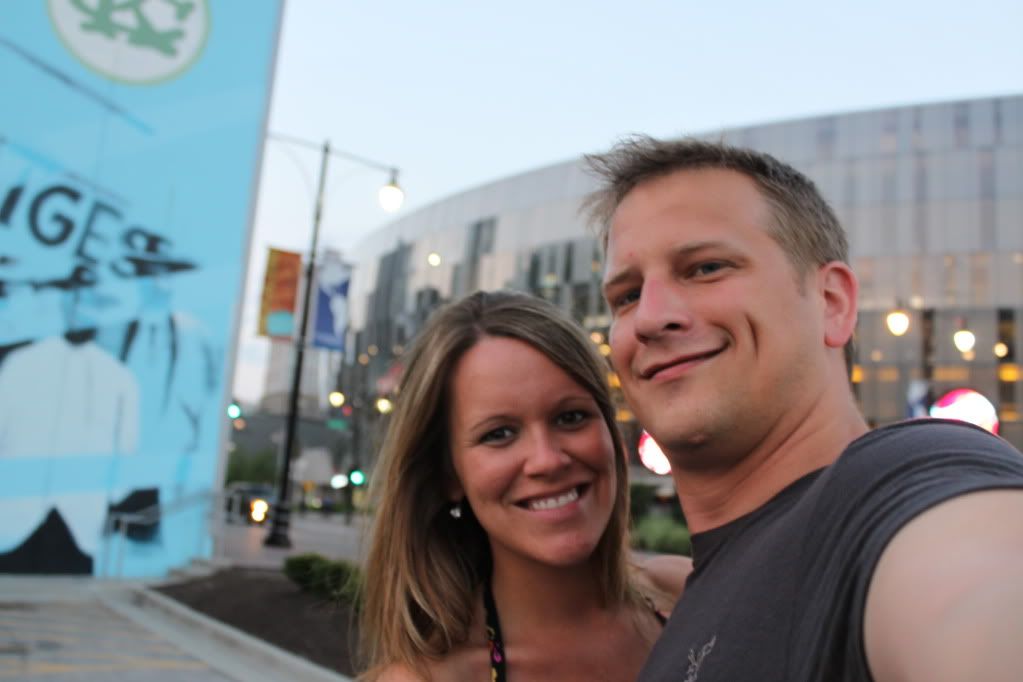 A trip to Kansas City would not be complete without BARBECUE! Beau's goal was to find the dumpiest, dive of a place in the worst part of town to try what is referred to as the Barbecue Capital of the World. We drove through 18th and Vine, the Jazz District of KC, and landed at Arthur Bryant's, a barbecue joint that Playboy Magazine referred to as 'The Best Food in the World.' I was only a little scared as I approached the front counter to order my meal. The wait-staff was incredibly crabby, but the pulled pork and potato salad were delicious. The best part of the meal is when I asked for a couple of carry-out boxes. A scary woman proceeded to follow me back to the table, line a couple of thick sheets of paper on the table and use what I like to call the 'dump, roll, and tape method' to secure our bbq for the ride home.

Yesterday, we decided to see what our leftovers looked like. Let's just say it tasted good…