I have a love/hate relationship with home improvement. Being married to a Jorgensen means I've married into a life where 'family time' usually involves one of the following: mudding, drywall, power tools, or wood. We've spent many hours crowded together around a sanding table in Ray's shop, and in the six years I've been with Beau, it's been exciting to witness four homes come together from what seemed like a sheet of plywood and a pile of sawdust. It's fun to see what the Jorgensen men come up with, whether it's turning a measuring mishap into a wine rack in our made-from-scratch kitchen, a solid oak bathroom sink, and now, one beautiful set of baby furniture ;)
Needless to say, I wasn't surprised when my father-in-law, Ray, agreed to spend the day bonding with his youngest son and helping us make room for his soon-to-be grandson. See, Project Nursery not only includes readying the baby's room with a fresh coat of paint and some window coverings, but also finding a place for the room's existing, very important purpose...my dressing room. My clothes, my dresser, my mirror, and my shoes are in desperate need of a new home by October. We've thought about every possible strategy, sharing a closet, moving our clothes to the basement, or making one massive trip to Goodwill; yet, none of them seem to be the winning ticket. So...we called Ray for the answers. And boy, am I happy with the results (in progress of course)...
I have never had a walk-in closet, nor have I ever made less than three trips to Home Depot in search of just the right paint color. Today, only one of the two became a reality.
Beau and Ray built me an enormous walk-in closet in our guest room upstairs. Although I had to step over an array of tools and small sharp objects to see it, I felt like Carrie Bradshaw the first time she witnessed her new closet in Sex and the City. I could have sworn it was plated in gold, with a chorus of angels singing in the background, and two halos atop the heads of my husband and father-in-law. Sure, it wasn't the Pent House of a New York City apartment, and I wasn't wearing my 4-inch Jimmy Choo heels, but it was the best looking closet I've ever seen. Ray and Beau did a great job building it into the current layout of the room and needless to say, I was pretty excited about Beau's idea of shoe racks and shelving units. I think I might sleep in it tonight. ;0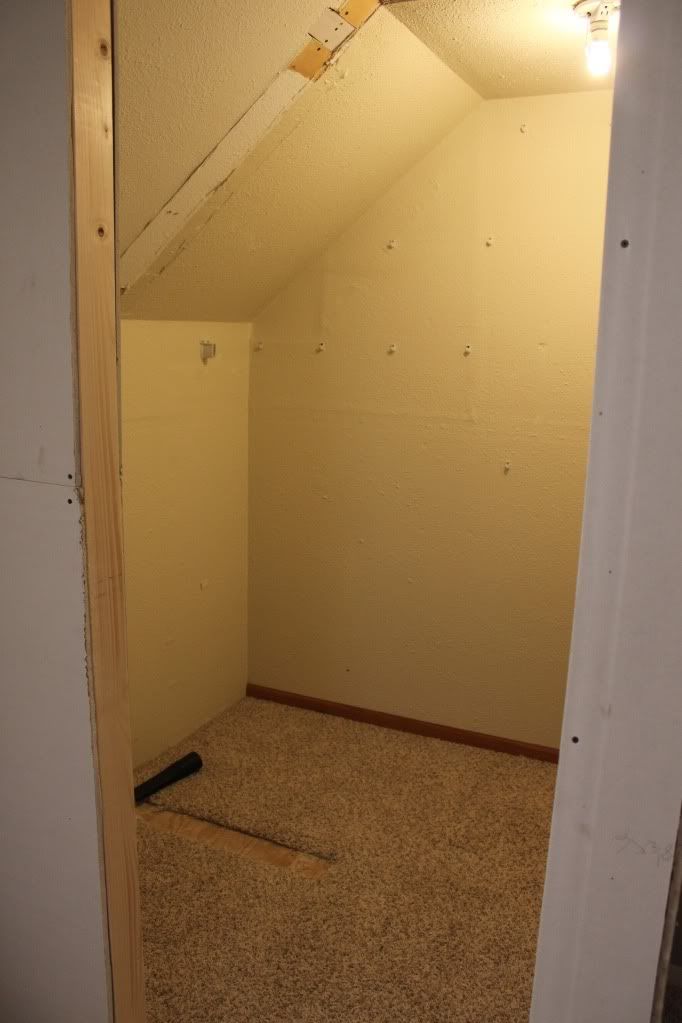 While Beau and Ray built my clothes-haven, I spent the morning driving back and forth to Home Depot, making friends with Brandt, the paint guy, as I struggled to pick out a color for Little J's room. By the second trip, I felt defeated. I should have known all along that Martha Stewart would save my butt once again. As I was about to mix a gallon of a paint I was only halfway happy with, a Martha Stewart baby blue caught my eye from across the paint department. Once again, plated in gold, with a chorus of angels, and a halo above Brandt's head. I purchased a gallon, drove home, and spent the day painting with Little J kicking away.
The before. Thank goodness for $2.94 paint sample tubs available at Home Depot. There are four different shades of blue on the wall in this picture. The blue I went with is not one of these.


The after.
Tonight, I am tired. As I sit in the middle of my once cleaned house, scraping dried paint off my newly pedicured toes, I continue to reflect on this love/hate relationship with home improvement. There is only so much to do in this little love house of ours... then I guess, it will be time to move ;)